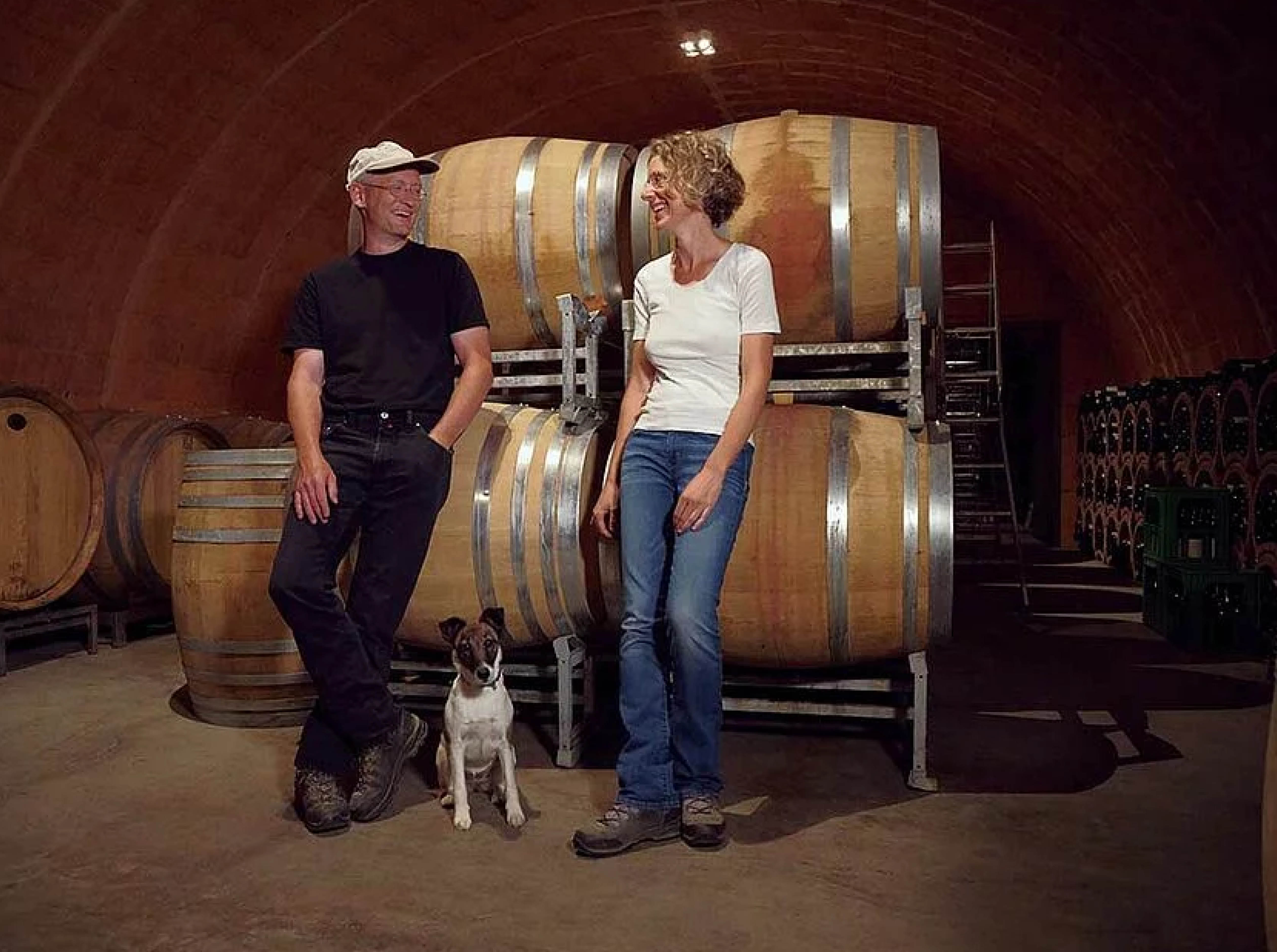 About
"The German wine region of Baden lies along the east bank of the Rhine across from the Alsace. With their small-scale operation, husband and wife Hans-Bert Espe and Silke Wolf have spent the last decade slowly building a reputation for inspired, delicate and polished Pinot Noirs from Baden. In style, sensibility and size, they are reminiscent of Pinots from the Mosel, except they are from Baden. You may have to remind yourself of this when tasting the wines. In a region overrun by mega-sized, agriculture/industrial cooperatives, Hans-Bert and Silke farm their own few hectares of vines, making only a little bit of wine, with great care. ...thoughtfulness in the vineyard and clarity in the wine outweighs yields in the vineyard and alcohol in the wine. The results are unlike all the others in the region.
The vineyards of Hans-Bert and Silke are north of the Kaiserstuhl. Although only about thirty minutes north, their location enjoys a much cooler microclimate thanks to their proximity to the Black Forest. In addition, the volcanic soils of the Kaiserstuhl give way to limestone and loess. The result is Pinot Noirs with lower alcohols and higher acidities."
Shelter Winery
Falstaff Wine Guide Germany 2023- 4 stars
'Silke Wolf and Hans-Bert Espe are always extremely good. Last year, we were amazed at how easily the two had mastered the 2018 heat vintage, and for a long time we have been emphasizing what a super value their entry-level wines represent. This year, the rosé sent a murmur through the ranks of tasters: if only more rosés were as full-grown and serious as this one! But that's the farm style: solid and fundamentally good, with an eye for what makes sense and has flavour. Shelter Winery is on its way to becoming a classic.'

2020 Shelter Lovely Lilly Pinot Noir

'Hans-Bert Espe and Silke Wolf named their winery Shelter after the old rented hangar where they got their start. Now settled in a beautifully designed, solar-powered building, they have continued to grow and make wine on the same small scale and with the same hand-crafted philosophy that they began with. The microclimate in their particular region of Baden benefits from a cooling wind from the nearby Black Forest, as well as mineral-rich limestone and loess soils. The variety that Hans-Bert and Silke focus on—pinot noir—has long been associated with Baden, though their pinots deviate from the oak-heavy style that has become the norm there. Their 'Lovely Lilly', named for the beloved dog who accompanied them in their first several vintages, exemplifies their light and fresh style. Harvested by hand and delicately pressed after a short cold soak, it ferments in open-top wooden vessels before aging in mostly old barrels. With violets and fresh earth on the nose, it sits lightly on the palate, with crunchy red fruit, black pepper, and a definite mineral streak. Organically grown, low-intervention/natural wine, vegan.'
Artisan reviews, New York

2020 Shelter Spatburgunder


Falstaff Wineguide review
Tasting from 21 November 2022 - Ulrich Sautter
"Already Burgundian in aroma. Finest aromas of ripe raspberry, red currant, hibiscus and allspice. Highly complex with ideal acidity, precision and elegance, yet so powerful with perfect structure. A great wine with a very long finish."
93+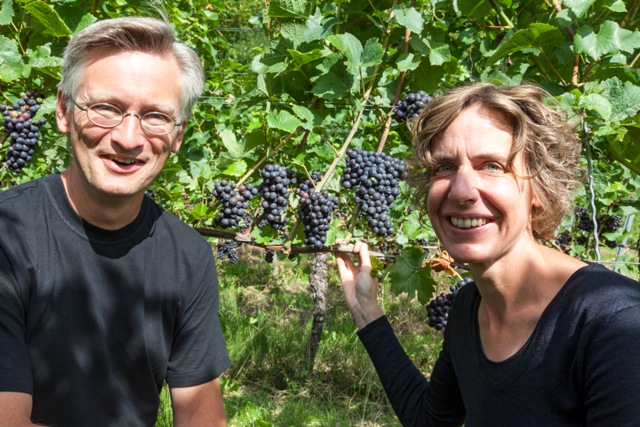 (Image: Hans-Bert Espe and Silke Wolf)