Never Never Distilling Co.
.

Story
Fearless Spirit
Never Never Distilling Co. is the story of us, three people with a passion for flavour, having a serious go at creating Australia's most exciting and innovative gin brand.
It is the culmination of our separate journeys, three paths walked that have managed to intertwine here in South Australia.
More Flavour
A laser-focus on flavour is why our spirits are loved by bartenders, gin drinkers and competition judges alike.
We make juniper the hero to create full flavoured, London Dry style gins perfect for G&Ts and classic cocktails.
Why? Because more flavour makes better gin and better gin makes better drinks.
From the Never Never
Our spirit of adventure is inspired by the Never Never - the vast Australian expanse beyond the horizon. To step in to the Never Never is to journey in to the unknown.
Awards
.
Tim Boast - International Distiller of the Year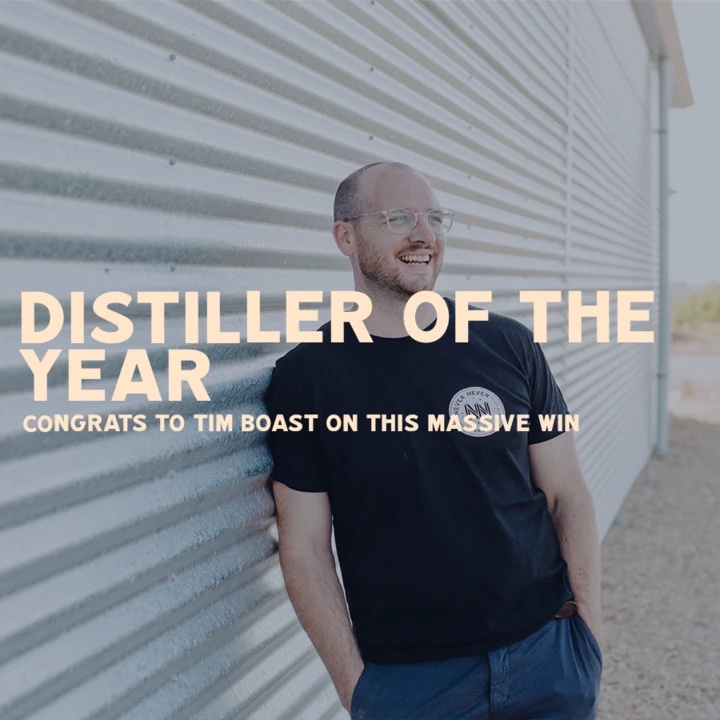 (Photo: Never Never Website)
Champion Australian Distiller
"Well, what an absolute thrill to see the results from last night's Australian Distilled Spirits Awards in Melbourne..⁠
It's an absolute honour to once again be named Champion Australian Distiller; the first distillery to do it in back-to-back years.⁠
Not only that, but our Triple Juniper Export Strength was awarded Champion London Dry and our Juniper Freak Gin took out Champion Navy!⁠⁠
It's a real demonstration of the hard work and effort that our entire production team puts in to create consistently high quality and award-winning spirits. Our belief in focusing on flavour first has never been stronger and it's an amazing way to close out a year that certainly had its challenges.⁠" - Never Never Distilling Co.
The Range

Triple Juniper Gin

Our signature Triple Juniper Gin combines three different distillation processes, each uncovering the bright and earthy qualities of juniper.
500ML Bottle Size | 43% ALC/VOL
Juniper is firstly steeped for approximately 24 hours. This steep, along with fresh juniper is then added to the still prior to pot distillation. Lastly, more juniper is added to the vapour basket to capture the fresh and floral juniper character.
Our eight other botanicals include coriander seed, angelica root, orris root, lemon peel, lime peel, liquorice root, cinnamon and Australian pepper berry.
Light clouding occurs due to the copious amounts of juniper used.
Tasting Notes
Nose – Pine needle, brushed rosemary, lemon oil, earthy root vegetable extending into fragrant pepper.
Palate – Bright citrus character up front. Oily and intense, prominent juniper, supported by earthy undertones and wooded spice.
Finish – Luxurious and long with a rich creaminess which quickly dries out.
Awards
Gold | San Francisco Worlds Spirits Awards - 2021
Platinum | Sip Awards 2021
#1 Australian Spirit - Australian Bartender Magazine Hottest 100 - 2020
Gold | 95 points - International Wine & Spirits Competition - 2020
Double Gold – San Francisco Worlds Spirits Awards – 2019
Best Gin – Drink Easy Awards – 2019​
Gold – San Francisco Worlds Spirits Awards – 2018
Gold – UK Gin Masters – 2018

Southern Strength Gin

500ML Bottle Size | 52% ALC/VOL
Our Southern Strength Gin is a botanical blast of classic flavour with a luxurious mouthfeel.
This savoury overproof expression of the Triple Juniper style is achieved by elevating the angelica root, coriander seed and lemon character.
Developed through meticulous bartender and consumer feedback.
Medium level of clouding occurs when mixed due to elevated botanical oils.
Tasting Notes
Nose – Fragrant pine mingling with bright citrus and earthy angelica. Coriander seed elevates the citrus character.
Palate – Oily, viscous and immediately savoury. Juniper still dominates, however is complimented with earthy notes of angelica root and coriander seed.
Finish – Rich and robust, with pepper berry spice and cinnamon warmth developing late.
Awards
World's Best Classic Gin | World Gin Awards 2019
Double Gold | San Francisco Worlds Spirits Competition 2021
Double Gold | Singapore World Spirits Competition 2019
Gold | San Francisco World Spirits Awards 2019
Gold | Sip Awards 2021
Best Gin in Show Trophy | Australian Gin Awards 2019
Best Classic Gin Trophy | Australian Gin Awards 2019

Juniper Freak Gin

A Navy Strength Expression of our Triple Juniper Process, the Juniper Freak is an oiled up beast of a gin.
58% | 500mL
The nose is a bright, pine lime splice mingling with fresh pine needles and split gum leaf. The palate is fragrant and drying, with bold juniper making way to peppery menthol and an earthiness. The finish is long and oily, with bags of juniper and citrus oil remaining long after the alcohol evaporates.
A yearly seasonal release, representing the freshest, brightest juniper character directly air-freighted from North Macedonia.
A pure juniper distillate is then collected and blended into a base made from our triple juniper process.
Bottled at the official navy strength of 58%, this gin is long, complex and viscous.
High levels of clouding occur when mixed, due to massively elevated juniper levels.
Twenty Twenty Vintage
The 2020 juniper vintage had low yields and a high proportion of green berries. The 2020 Juniper Freak highlights intense pine and bright citrus on the nose. This will slowly evolve in the bottle, allowing wooded spice and earthy flavours to develop.
Tasting Notes
Look – Brilliant, clear and oily. Heavy clouding occurs when you add tonic water.
Nose – Concentrated juniper presents immediately. Bright, pine-lime splice mingling with fresh pine needles and split gum leaf.
Palate – Thick and viscous. Bold juniper making way to peppery menthol.
Finish – Long with resinous juniper oils coating the palate and pepper berry developing late
Awards 
Australia's Best Navy Gin  – World Gin Awards – 2019​ & 2020
Masters – Asia Gin Masters  – 2019​
Gold - San Francisco World Spirits Competition - 2020
Gold – UK Gin Masters – 2019​
Gold – Singapore Worlds Spirits Competition – 2019​
Gold – Tasting Australia  – 2019

Ginache Gin 2021

500mL | 38%, ABV
Bursting With Flavour, Ginache Is The Spirit Of Wine Country - A Perfect Union Of Premium McLaren Vale Grenache Fruit And Our Award-Winning Triple Juniper Gin.
The fruit is left to steep for up to a month, extracting colour and developing flavour before the skins are finally pressed and the final juice extracted.
The result is a gin with a luminous red colour that develops into a bright hibiscus pink when diluted with tonic or soda.
Flavour-wise, Grenache is incredibly versatile. Its flavours bounce between bright raspberry and candied peel all the way through to dark plum and cinnamon, making it the perfect complement to the spice and citrus of the Triple Juniper gin.
This gin is perfect just on ice, with a splash of tonic or even squash. Best consumed right away.
Tasting Notes
Look - Deep raspberry red with a ruby hue. Bright hibiscus pink when diluted with tonic or soda.
Smell - Fresh cherry and plum fruits. Soft pine and spice.
Taste - Freshly picked raspberries and tinned plum immediately up-front. Plush tannins and a silky, ripe body followed by a light boysenberry swirl.
Awards
 Gold | London Gin Masters | 2020
Gold | World Gin Masters | 2021
Never Never Dark Series
The Dark Series is where we push the boundaries of flavour. These releases bring our experimental musings into the light of day.

Dark Series 'Jennifer' Gin

'Jennifer,' is an homage to the Dutch Genever, A Product Famously Combining Malt Wine With Botanical Flavours And The Ancestral Spirit Of The Classic London Dry Gin. A Collaboration With Sullivans Cove, Australia's Most Highly Awarded Whisky Distillery.
43% ABV | 500mL
As with all our Dark Series products; Jennifer is a limited release collaboration. This time, we've partnered with one of Australia's most celebrated whisky distilleries, Tasmania's iconic Sullivans Cove Distillery.
Combining the quality of Sullivans Cove new-make spirit with our award-winning botanical recipe, it's the first time two trophy winners of the World Gin Awards and World Whiskies Awards have come together to create a unique hybrid spirit.
Jennifer is absolutely delicious, with rich malt character combining with fragrant citrus and fresh juniper flavour. It's been built for cocktails and works effortlessly as a substitute in both gin and whisky classics. We love it in a Highball, a Jenny Collins or a Martinez.
Coming Soon

Dark Series 'Oyster Shell' Gin

Introducing our Oyster Shell Gin. Developed in Collaboration with Society Restaurant in Melbourne, this is a unique flavour expression of the Australian coastline.
42% ABV | 500mL
Oyster Shell Gin uses Kangaroo Island oyster shell, waxflower, Tasmania wakame, coastal daisy bush, saltbush and round mint to create a unique expression of the Australian coastline and built for contemporary seafood pairings.
Fresh sea spray jumps from the glass, bursting with split lime-leaf and fragrant grapefruit zest. The palate expresses the saline and savoury minerality of Kangaroo Island oyster shell and dried Australian wakame.
This gin is built for a martini. With lashings of wax flower and salinity, it scratches the itch of anyone who loves a savoury martini.
For those who love a G&T, it pairs beautifully with Fever Tree Mediterranean Tonic and a lime leaf garnish.
It's a great example of a sophisticated, citrus forward coastal highball.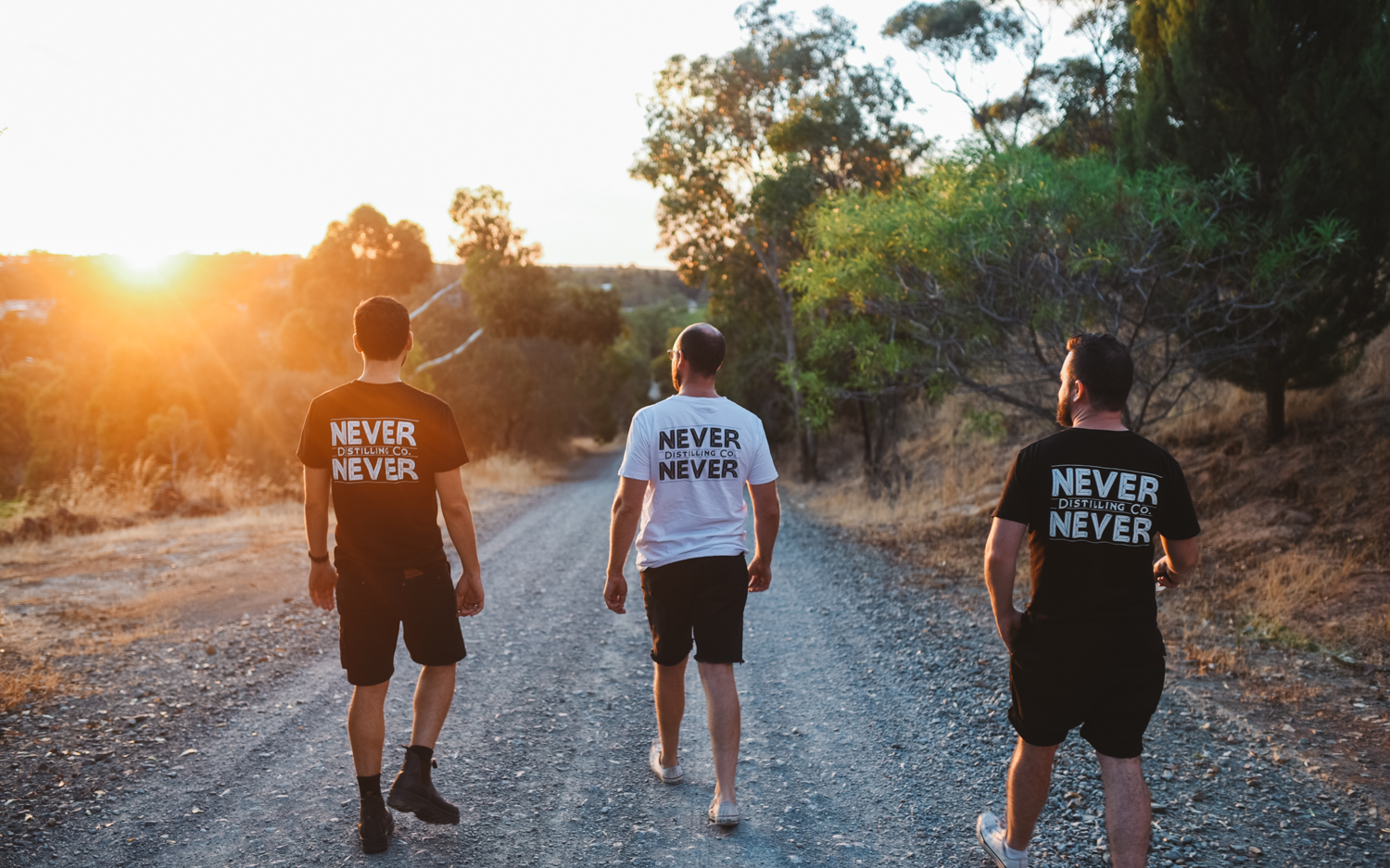 (Image: Never Never Distilling Co.)