(Image: Zico Oneill/UNKEL Wines)
 
Who is Unkel?
Unkel (variation of the spelling of Uncle), is about working with Mother Nature in the Vineyard to produce the highest quality fruit that we can obtain from her. Once in the winery, rather than being that hands-on, overbearing parent or father figure, you can think of us more like that cruisy, fun, slightly wild Uncle in your life.
As the 'Unkel', we always allow the wine to do the talking, leading its own life through fermentation and ageing in the winery providing what we believe is the most honest expression of the fruit that we started with.
Ultimately, we just want to make wines to be enjoyed with friends and family. Wines to be shared with a smile...anywhere, anytime and on any occasion.
UNKEL Wines 2021 Releases

2021 'Life's a Beach' Orange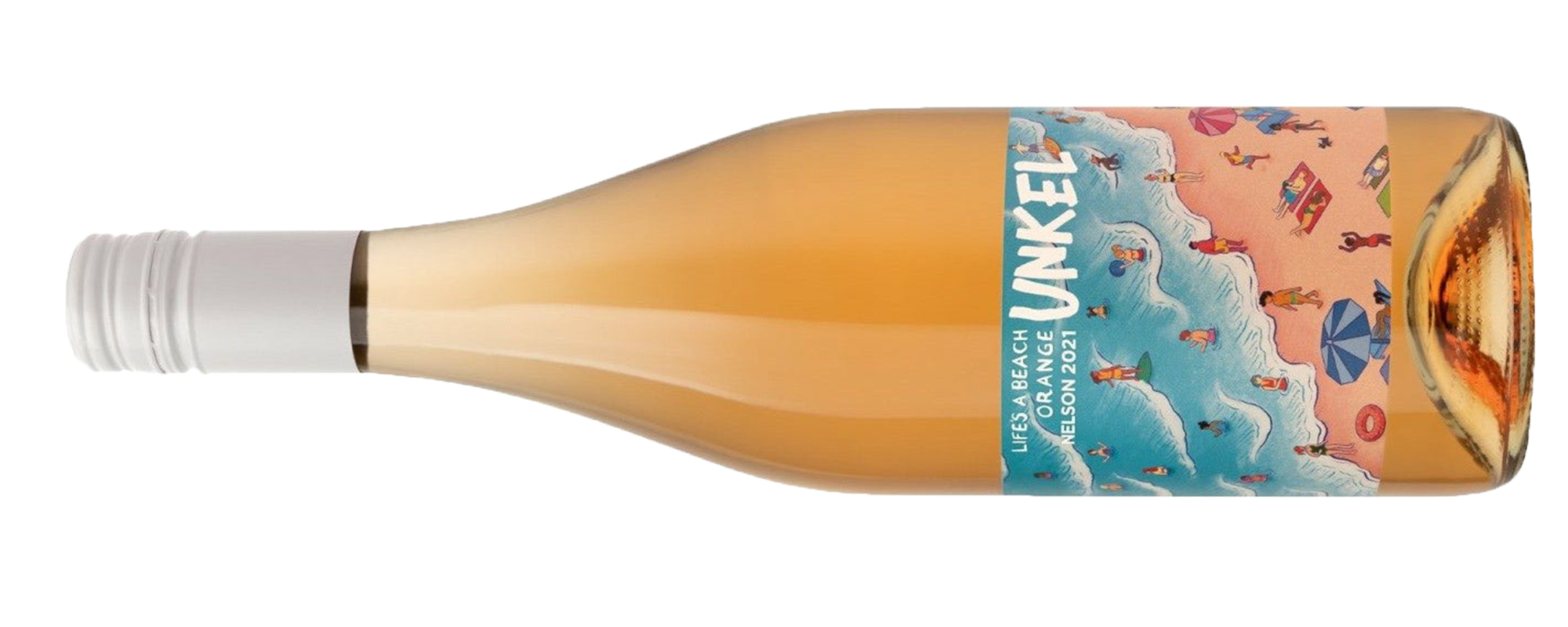 Life's a Beach is a blend of Pinot Gris, Riesling, Sauvignon Blanc & Chardonnay.
Around 50% of the grapes were fermented on their skins for 7 days. This is a light, aromatic and textural wine that was aged for 6 months in 5 year old Puncheons.
In recent times, you'd be forgiven if your life may not have seemed all that beachy. It's about time that changed. Notes of tightly wound lychee, apricot, pineapple and orange peel make way for floral overtones. Salivating acidity balanced with gentle phenolics gives this wine length and drive, whilst a mouth filling burst of peaches and cream effortlessly transport you to a place we'd all rather be.

2021 'La De Da' Light Red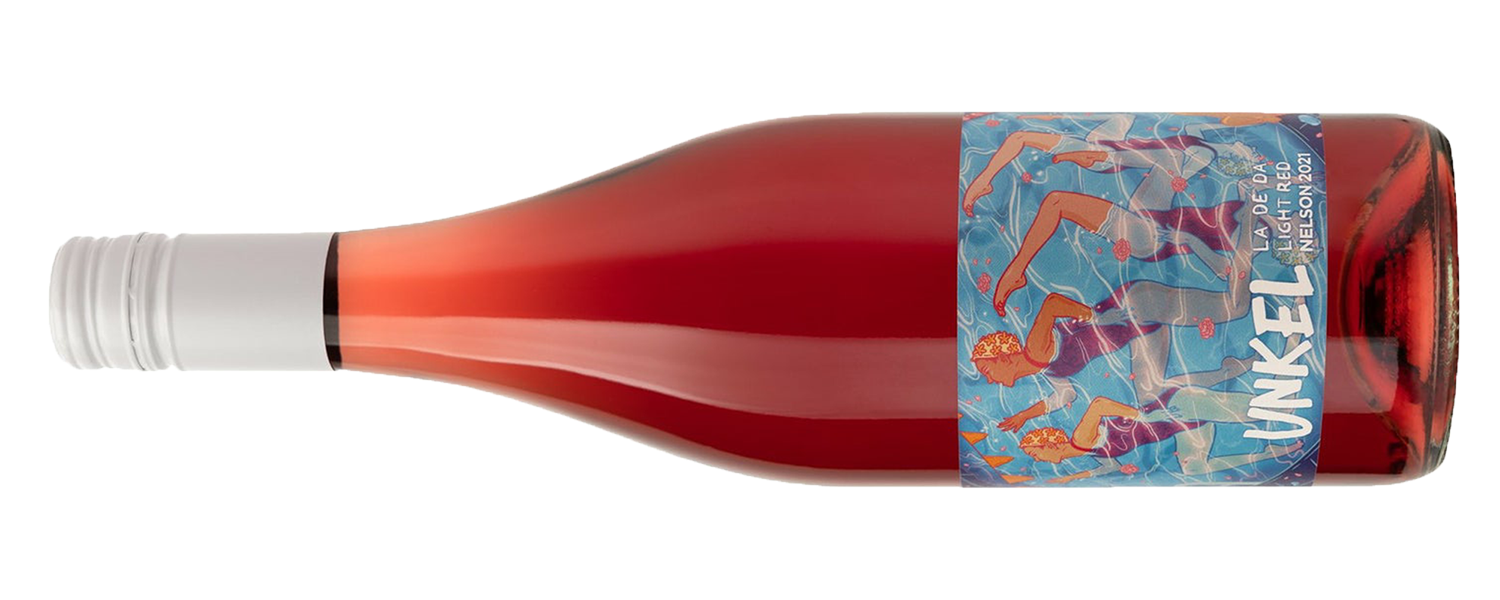 La De Da is a blend of Pinot Noir, Sauvignon Blanc & Pinot Gris.
These were all directly pressed to 5 year old Puncheons and aged for 6 months.
A bridge between a heavier rose and a light red. La De Da has been made for the warmer months and we think it's best served chilled.
Contrary to what the name suggests, this jubey little light red is anything but your hoity toity, pretentious crush. Tropical stone fruit, currants, rhubarb, dried flowers and a lick of sour cherry swim in synch alongside light, jubey fruit and fine structured phenolics. We recommend this wine spends some time in the fridge before opening but once opened it's something that we know will be around for a good time, not a long time.

2021 'Jurassic' Red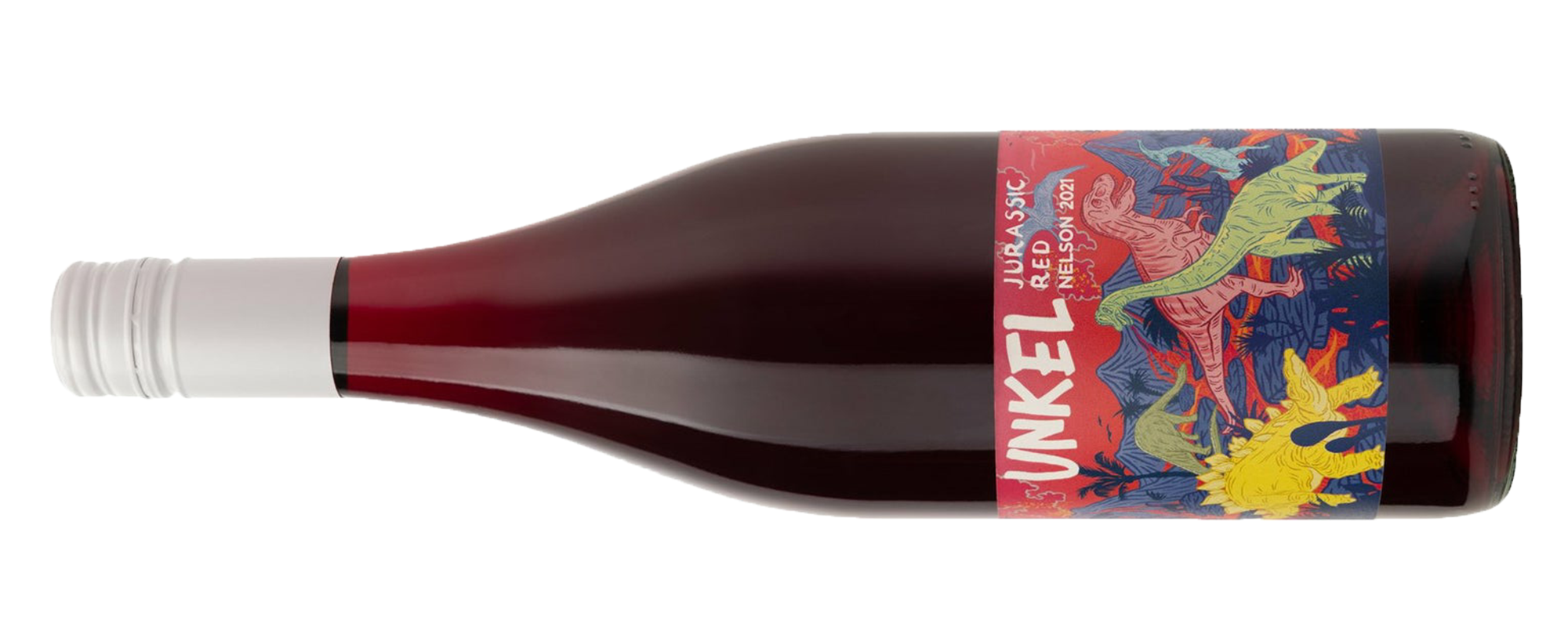 Jurassic is 60% Pinot Noir (multi-clonal) and 40% Pinot Gris that has been aged in 5 year old puncheons for 6 months.
Dry red fruits sit alongside soft tannin - rounding out an everyday red designed for pizza & laughs.
This little red number is the perfect addition to your Italian themed pizza night that even nonna wouldn't refuse. Aromas of blueberry, forest floor, mushroom, sweet smoke and tomato stalk that follow through to the palate. A light palate weight with a big burst of flavour. Fine, gentle tannin follows close behind, finishing with a hint of stalky creaminess.


2021 'Juno' Riesling

Vinification: Single vineyard Riesling that was stomped and left overnight before being pressed to Stainless steel where it was fermented and aged on lees for 6 months. It was then racked and transferred back into the tank for another 4 months before bottling.
Lemon pith, white peach, sherbet, and floral aromatics. Clean, acid driven Riesling with breadth and generosity.
11.0%

Winefront Review by Mike Bennie
Posted on 27 January 2023
"Nelson riesling from a Kiwi who came to Aus and then went back to Kiwiland and now are shaking things up over there (albeit considered winemakers!). Fruit farmed by Unkel themselves.
Quite ashy and stony, tightly wound and chiseled, but there's lemony tang and green apple and a melange of wet, Italian herbs in the mix. Zingy, refreshing, sorbet-like, very minerally. It's a wine that needs time and settling into its reductive frame. Good, but have patience."
91 Points

2021 'Atlas' Pinot Noir

Vinification: A multi-clonal Pinot Noir from the Unkel Vineyard. This was aged in Puncheon for 6 months before being blended to a stainless steel tank and aged for 4 months before bottling.
Bright, aromatic fruit with hints of purple violet paired with savory spice born from parcels fermented with whole bunches. This very much follows on to the palate. Soft, structured tannin and bright acidity with plush fruit and earthy notes.
13.5%

Winefront Review by Mike Bennie
Posted on 27 January 2023
"One of the more considered, younger gen producers of NZ, formally of Victoria. Pinot noir. Farmed by Unkel. Also has some skin ferment pinot gris in the mix, a silent-ish addition to the noir. A few techniques for the pinot noir applied. No new oak.
Slurpy, herbal, minerally expression with sour but bright cherry characters, licks of pomegranate juice, strong, wet slate and smoky tarmac notes in the mix. Tannins are edgy, sooty and spicy, the wine strongly mineral-driven with crushed granite on that red cherry profile. Edgy, firm, dry. One for those liking more reductive styles."
92 Points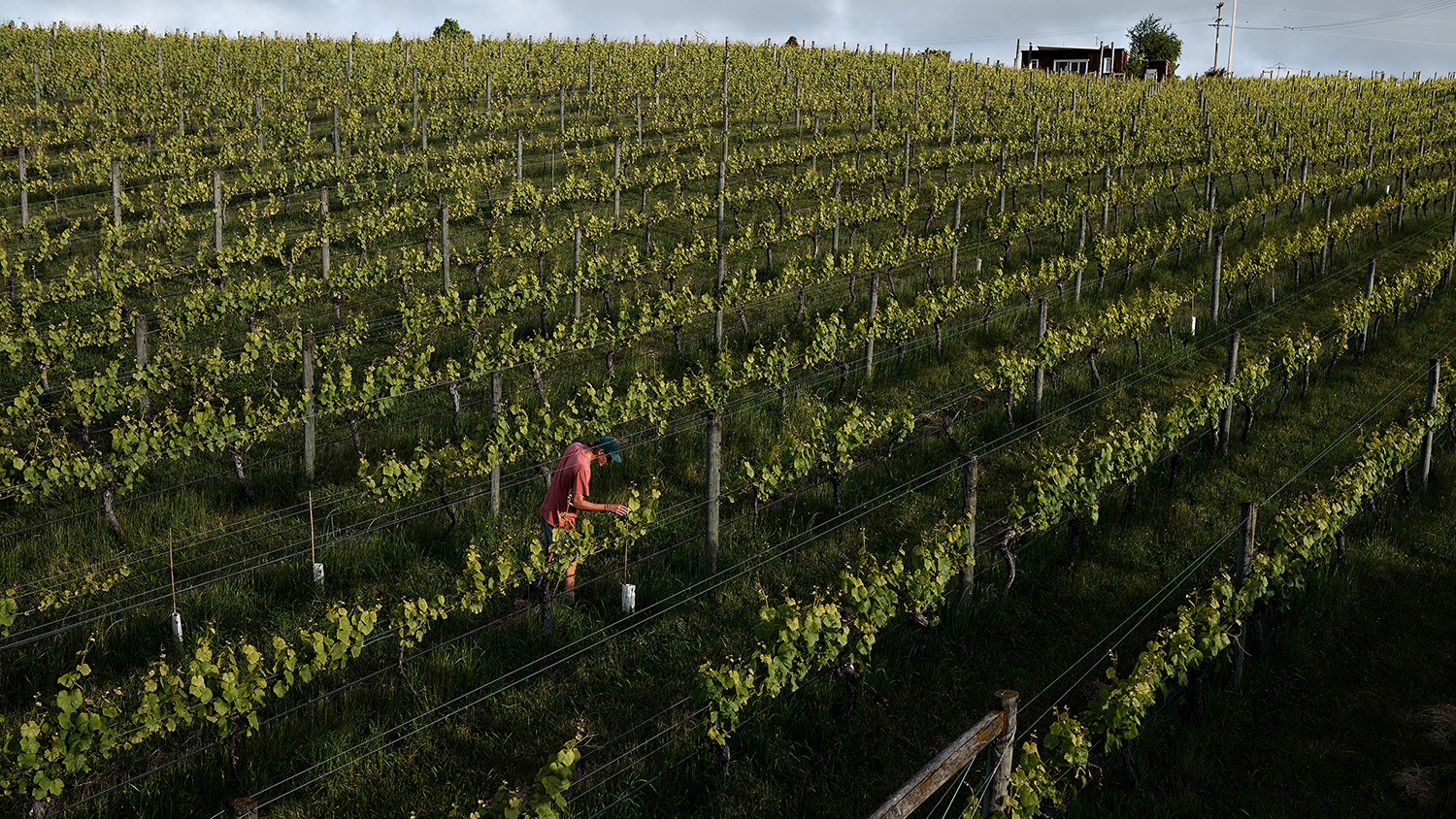 (Image: Zico Oneill/UNKEL Wines)