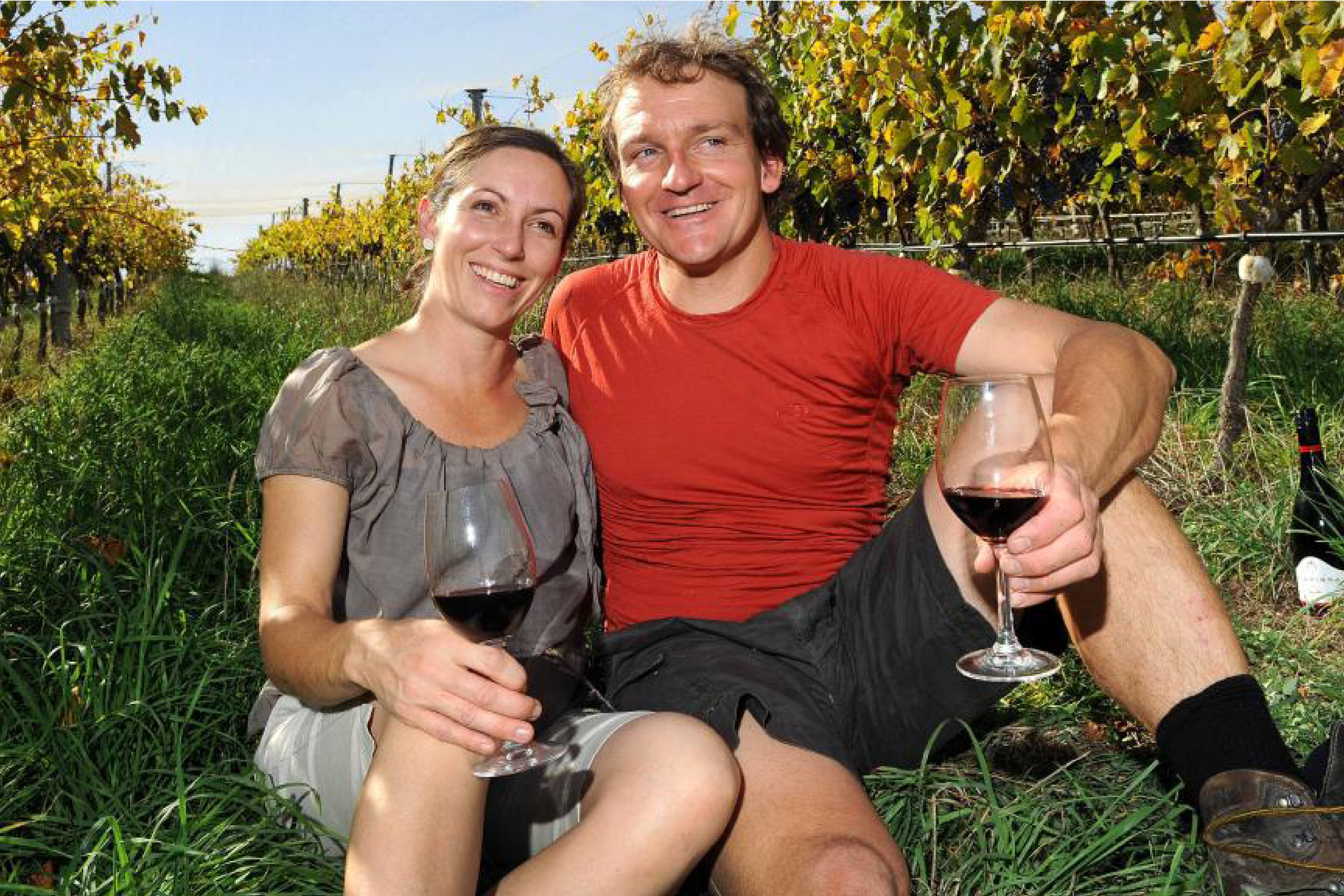 Ngeringa
"I grew up with biodynamics on my parents' Jurlique herb farms. To grow our grapes any other way was unthinkable." – Erinn
____________________________
Ngeringa has been certified biodynamic for more than 20 years. It is the biodynamic process that creates a balanced and healthy relationship between soil, plant and all living beings – and opens the vines to optimum expression of flavour in the glass.
Our five hectare Mount Barker vineyards, The Summit and The Rufus are the centrepiece of our 75 hectare farm, where we take a 'whole farm' approach to winegrowing.
The Iluma Vineyard, also planted on the original biodynamic soil of the Jurlique property, is just two kilometres away in Nairne.
Ownership of the vineyards from which our fruit is harvested ensures full control over the whole winegrowing process and the resulting fruit quality, each season.
Ngeringa Iluma Vineyard Syrah 2018
Blueberry, dark cherry, cracked black pepper, dried roses, earth. It's deep and dense in silty tannin, meaty and full of dark cherry, but with spice and this charming rose oil perfume wafting through it, fleshy and stony and wide-feeling, with soft acidity, but enough to keep it on the rails. Finish is all clod earth and spice, a bounteous spread of gravelly tannin pushing it long. Such personality. I reckon it's very good drinking now.
95 POINTS GARY WALSH.
Ngeringa Chardonnay 2019
New livery for Ngeringa and it looks great. A bit more organic, to match the ethos and commitment to the certified organic/biodynamic farming, perhaps.
Hazy gold in glass, hazy kind of feel to texture too. Lots of flavour, brightness and freshness in tow. Scents of young stone fruit, a squeeze of lime, some nutty-saline characters too, but not strong. Drives with lots of chardonnay grape character in taste, nearly rich but the acidity keeps it all perky and crisp. You can see this mellowing beautifully into something well-balanced but buttery and generous. It's really delicious.
Mike Bennie
Rated : 93 Points
Ngeringa Pinot Noir 2019
New packaging has given this excellent brand a nice refresh, but the meat on bones is that these guys are one South Australia's first organic/biodynamic producers and continue to excel. Good stuff. Such a reliably good producer.
Slurpy, sappy, cherry elixir and light medicinal characters, sweet cranberry, dried and fresh, licks of green herb and some faint malty characters. Has nice carriage of flavour, suppleness, ease of drinking, good hit of pinosity and a little richer/sweeter stuff for those seeking that out of pinot too. A very enjoyable drink.
Mike Bennie
92 PTS
Ngeringa Rose 2019
Striking wine. Complex and doing way more than it should. Perhaps.
Perfume like smelling salts! Whoosh! Geez that's got a big whiff to it. Nice but. Floral, talc, light berries, cashew nuts, saline characters. Lots happening. Textural feast, juicy and bright, slippery and then puckering gently. Nutty, saline, lightly fruity. Really complex and compelling. Superb drinking.
94 POINTS
MIKE BENNIE
Ngeringa Summit Vineyard Chardonnay 2017
Posted on 30 July 2020.
This is bottle 0019/1298. I was once asked, by one famous producer, if there was any specific number of a limited bottling run I'd like. Well, I'm weird, but not that weird. Also, I remember Summit as a brand of durries back in the 80s, before they took away all the pretty branding. As I recall, the lines on the papers went vertically, as opposed to horizontally. Or maybe that was another brand. The things I think of!
Very stylish wine here. It has a lovely lime acid cut, a smooth gloss, a flicker of fennel, white peach, maybe some cashew, and green apple. Sails along in fine fashion, and finishes cool, tight, flinty and long. Flavour and finesse. Lovely.
Rated : 94 Points
Gary Walsh