About
Organically Farmed
100% Estate Grown & Made
Wines of Place
Our Patch of Margaret River
Nestled by the Indian Ocean in cool Stevens Valley, Margaret River, lies an ancient patch of gravel loam earth that we call Voyager Estate, where ocean breeze tempers the south western sun to yield fine vintages unlike any other.
Voyager Estate embodies a 40-year legacy of family, adventure and sustainability. Yet perhaps above all, it is an expression of its place - a wild corner of the West Australian landscape that is as beguiling as it is remote. Surrounded by ocean on three sides the aspect, microclimate, consistent maritime influence and our ancient soils are the foundations of our distinct style.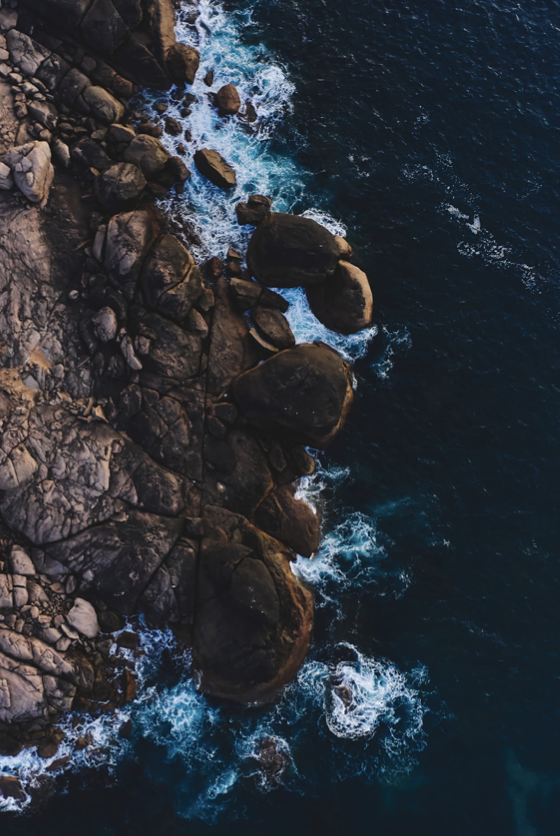 (Image: Margaret River Coastline - Voyager Estate / www.voyagerestate.com.au)
Our Craft, Our Wine
We work with nature as much as possible, believing that farming with organic practices builds healthy and active soil biodiversity, allowing our vines to flourish now and for future generations.
We nurture living soils with healthy nutrients and deep vine-root systems, so they can continue to produce world-class wines and mark their place in Australian vinicultural history.
Our winemaking is a continuation of this 'hands off ' and organic approach to viticulture. We want people to taste the vineyard when they drink our wines: the soils, the local flora and the purity of fruit that our land delivers. To achieve this, we are as gentle as possible during the winemaking process.
A True Original
Michael J Wright, the man with the vision for Voyager Estate, was a farmer above all else. He loved the land, and he loved sharing the produce from his little patch of the world.
Every crease of his boots reflected every inch of his passion. He was meticulous in setting up our vineyards. He did all the soil profiling himself at a density five times greater than the norm.
He sought and found both quality and uniformity – beautiful red gravelly loam over a rich clay base in a well-formed patchwork of blocks across the property.
His obsession with bringing the character of these great soils to the surface through wine growing was a key factor in creating what has become our most prized vineyard blocks today, which form the core of the MJW wines.
Michael ensured that everything he touched did justice to our beautiful place in Stevens Valley. He fostered this focus and vision in our people and it is most fitting that this iconic wine is named in honour of him - a truly original wine, honouring a true original.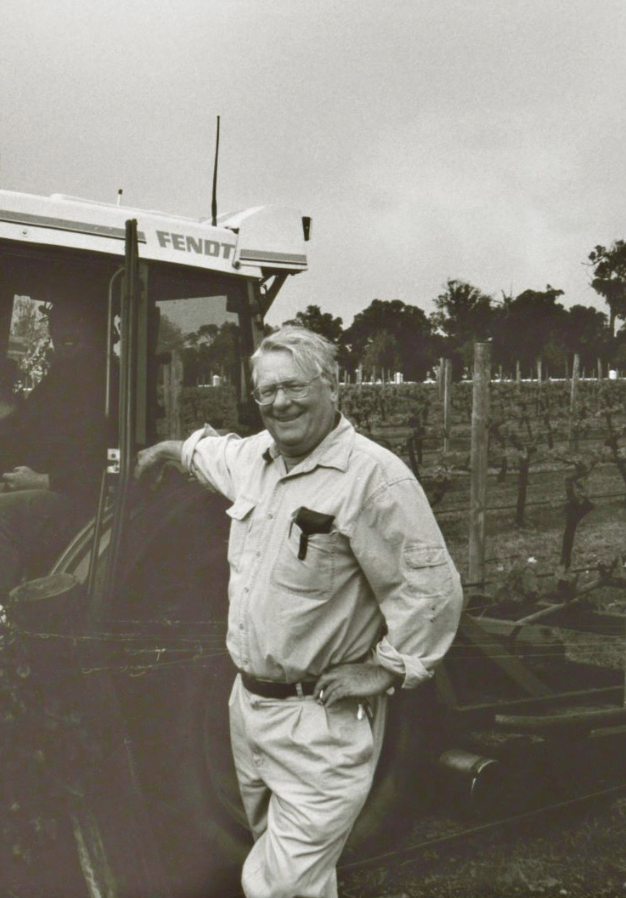 (Image: Michael J Wright - Voyager Estate / www.voyagerestate.com.au)
Voyager MJW Release
2021 MJW Chardonnay

Variety: 100% Chardonnay
Alc/Vol: 13.0%
pH: 3.2
TA 6.4 g/L
Vineyard: B6 (Dijon 95), B5 (Gingin) and V12 (Dijon 76)
Soil: Extremely gravelly, high granite content & stony, clay base
Organic: Certified Organic
Harvested: 17 to 22 February 2021
Oak: French oak, 9 months, 32% new
Cellaring: Up to 15 years
Colour: Pale straw
Nose: Lifted florals, pure lemon, nougat, vanilla, cashew
Palate: Tightly wound, layered, savoury, long mineral finish
Food Match: Oysters, natural or with citrus ponzu dressing
Vintage
A tricky season commencing with good early season growth. A cool and wet November impacted fruit set and resulted in reduced yields. Early summer was hot and dry, then February brought more cool and wet conditions. Our organic farming, however, had the vineyard in terrific shape to deal with the challenges and our Chardonnay was harvested with fruit purity and bright acidity.
Method
Select parcels were hand-harvested and pressed separately, before natural yeast fermentation in French oak. The Dijon 95 batch underwent malolactic fermentation to increase structure and reduce the wine's natural acidity. Bâtonnage was conducted monthly for the 9 months of barrel maturation, prior to blending in November 2021 and bottling in January 2022.
"Our best Certified Organic blocks, planted to the Dijon 95 and Gingin clones, produces a Chardonnay of incredible drive and focus, lightness and presence, transparency and allure. The ultimate expression of our place, crafted in honour of our founder." - TIM SHAND, CHIEF WINEMAKER

Winefront Review by Gary Walsh
Posted on 8 August 2023
"40% new oak. Clone 95 and Gin Gin.
Light struck match, quite a bit of spicy ginger oak, cashew, white peach and citrus. A little honey almond gloss in with the white peach, ripe citrus, glassy acid, flinty, with a burst on the long finish. Smooth glide and composure. Graceful and complex."
95 Points
Halliday Wine Companion by Jane Faulkner
"Often a powerhouse of a wine, but this vintage, it's not too big, not too light, just right. The palate is refined and feels effortless as the citrus flavours mingle with grilled-almond lees, clotted cream and some oak spice offering savoury nuances. There's certainly texture, but the fine line of acidity just reins in everything as the finish lingers. It feels cool and calm. "
96 Points