(Image: Two Metre Tall - Tim Grey Photography)
Two Metre Tall
 
Our Brews & Our Farm
"Way back in 2004 we chose to move our young family across the world from southern French vineyards to a farm in the Derwent Valley in southern Tasmania with a dream of growing vines and making wine. Instead we discovered a rich hop growing history and embarked on a project of ale instead, using ingredients from our farm, this valley and from across Tasmania.
Our farm is integral to our business. The ales and cider we brew and ferment in the converted shearing shed would be a different beast should we have chosen instead an inner city warehouse.  The farm gives us a sense of place, connected to land and to ingredients we grow ourselves and source from other Tasmanian farmers too.
The old shearing shed was converted to house our brewery in 2008.  The brewhouse itself was originally the St. Ives brewery in Battery Point, Hobart, installed back in the late 1980s. Rehoused on our farm, the old kettle & tanks are lovingly nurtured to life to help us on our journey to find a unique estate brewed beer.
After 17 years, we continue to be a 2 person operation - no staff, just Ashley & Jane doing it all!  In late 2019 we reduced our land holding to 52 Ha, still plenty of land for our hops, apple trees, raspberries, and cows, but giving us more time in the brewery.
Despite the reduced farm size, we can only make as much as we can make so we rely on the patience of our customers who constantly astound us with their continued understanding and encouragement if their favourite brew is not immediately available.
Thank you to you all." - Two Metre Tall
Two Metre Tall New Releases


Cleansing Ale, a refreshing, bottle-conditioned farmhouse ale, perfect to quench the thirst! Aromatically hoppy in youth, once these rather transient characters subside after a few months, the ale gently sours in bottle. This gradual and controlled increase in acidity refreshes and revitalises the ale as it ages, ensuring that whenever you choose to enjoy a bottle, it will always be "cleansing"! This batch was brewed in October and is really hitting its straps right now.

Derwent Farmhouse Aromatic Spelt Ale

This is a NATURALLY SOURED ALE. Features farm grown raw ingredients. The organic spelt is sourced from Kindred Organics, while the barley and rare, aromatic hops are from both our own and other carefully selected farms along the Derwent River Valley. Using the indigenous micro flora present on the grain, we encourage a 36-hour lactic fermentation of the wort prior to inoculation with selected yeast. The rarity of individual ingredients, coupled with the very specialised brewing technique leads to an exceptionally unique brew of unparalleled regional character.
5.2% alc. vol.

Forth All Grain Famrhouse Ale

Brewed with quinoa, buckwheat, rye, oats & barley malts, this brew showcases grains grown in the Forth River Valley in northern Tasmania by the Damen family.  The bitter saponins on the unwashed quinoa deliver a subtle bittering structure and surprisingly, no hops are used at all.
4.2% alc. vol.


The 2018 harvest, 100% wild fermented. Exclusively using the very rare, exceptionally flavoured, high-acid and very late-picked Sturmer Pippin apple our Apple Cider is fermented to complete dryness. Remember, you can always sweeten a dry cider, but you cannot dry a sweet cider … so buy naturally dry ciders and sweeten to taste as apple cider truly is one of the few beverages for all occasions. Our cider uses 100% whole, tree-ripened apples (rarer than you might think!!), no additives (NO Sulphur Dioxide!!), no filtration, no added water … nothing but the goodness of apples from Tasmania's beautiful Huon Valley! 7.5% alc. vol.


Barrel Aged | Special Release
"Christmas, summer ... yep ... it's raspberry time!
Raspberries are SO delicious. Everyone knows this. But let's face it, raspberries are also very "in yer face!", meaning they, quite frankly, dominate all comers when presented to the blenders table.
The question for TwoMetreTall, at least, is not "can we make a beverage using raspberries?", it's more "can we use raspberries in a beverage which offers more than just raspberry character?"
And raspberries are SO Derwent Valley, Tasmania. Our home!
The brief therefore was demanding. We sought a very "Christmassy"/summer beverage; a drink commanding to be served with slices of ham and mild soft-rind cheeses. Sparkling, but not "fizzy", aromatic without suggesting a sugar-ladened syrup, acidic – because this is what marries the drink to the food - and dry, oh-so-bone-dry ... and moreish!
And we're thrilled!
The key to this result is wild fermentation. For those of you reading this who know our work across nearly two decades you realise that when we talk wild fermentation, we mean what we say; unadulterated, addition-free, completely spontaneous, un-cultured, completely natural microflora fermentations. As unpredictable as they are complex, the direction these fermentations take is ultimately a balance between the production of lactic and acetic acid from one of the most dominant teams of players in this impossibly complex and complicated living system; the family of lactic-acid bacteria.
2019 raspberries courtesy of near neighbours The Westerway Raspberry Farm & our single variety (Sturmer Pippin), wild fermented & barrel-aged 2018 apple cider were blended into oak hogsheads in May 2020, then given a further two-winters-and-a-summer for these two ingredients – the ONLY two ingredients it must be said – to become one.
We prefer Autumn raspberries for this task. Not nearly as colourful as the earlier summer varieties Australians habitually & justifiably voraciously tuck into around Christmas time, we find the more subtle perfume and more acidic body of flavour of these later season berries more apt for our desires to accommodate complexity of aroma, flavour and – most important of all – palate texture from tertiary elements engendered by both the oxidative processes from extended time in neutral old oak barrels and the production of literally innumerable organic molecules resulting from the complete "living system" fermentation touched on briefly above.
You, dear consumer, will be greeted by a joyous, festive colour, bristling with nuance (I was so thrilled by an almost plum-like purple hue). Emphatically raspberry aromas burst forth on pouring but this is neither overwhelming nor cumulative, which could lead to palate fatigue. The palate is then all wild ferment character; complex acids – yes, most certainly with many on the volatile spectrum – dry and completely sugar-free. This celebratory beverage is made to be served with the Christmas Ham and then continued into the New Year for the long, hot, relaxing summer dining thereafter. It will also cellar remarkably well for those with patience, but – and to be frank – having started this beverage in 2018 and released as the sun sets on 2021, we have already invested significant time so that your enjoyment is assured from the point of release." - Two Metre Tall

2019 Original Sparkling Mead

Whole Hive Honey | Special Release
There is a reason no other product we make excites our imaginations more than Original Sparkling Mead.
Take honey from our own farm – a product produced from the harvest from this property without any choice, intervention or input from the human occupants and therefore thoroughly representative of time, place and season; the ultimate expression of "terroir" if you like – then spontaneously ferment it, mature it in oak barrels for two-years, then referment it in bottle via another spontaneously wild fermentation of honey and water from the very same farm. No additions AT ALL (not even yeast. Nothing!) as well as no interventions – such as fining or filtration – other than those required to simply move the liquid from time to time (and even then, this is done, where possible, by gravity).
So, unless the above is simply a good story, the obvious conclusion from such a descriptor is that from year-to-year, each release would (and should) be wildly different. And for those of you who tried our first release, using 2017 honey, and have good memories, you really are going to experience this truth; the two releases are COMPLETELY different. And this is how it should be!
The 2017 was such a difficult thing to establish a completely wild fermentation in – it took many months for action to arise. By comparison the 2019 bolted into fermentation in the hoses transporting the sweet nectar to the fermentation vessel. And their relative behaviours remained comparatively oppositional throughout the entire 3- year production period.
2019 was a tryingly dry spring, after a colder winter. The bees had had a difficult time. They took a long time to "get going" that year and, when they did, the spring was dry, and the offerings were more meagre. The honey felt more concentrated, stronger in flavour, more unctuous and, also, much more acidic. The fermentation reflects this. Barrel maturation here at TwoMetreTall is often about time on lees. But not just yeast lees. Equally important in spontaneous, wild fermentations is the progressive, rhythmic input from a myriad of wild microflora and the most impactful of these are the diverse and plentiful species of lactic acid bacteria (LAB). Organoleptically, dependent on many diverse characteristics, this impact plays out in the resultant beverage as a balance between the production of lactic acid and acetic acid. In 2019 the balance tips towards acetic acid – and this makes seasonal sense to me – whereas 2017 the balance was more towards lactic acid. I remain intensely fascinated by these correlations.
Acetic acid is too often demonised as a "fault" by the vanilla-fermentation-obsessed boffins. I disagree. Only in vast excess is it a negative. Even when a complex fermentation tips the balance acetic, remember that word balance! Sure, accentuated on initial nose and peppery at back palate, you will also note an instantaneous salivary response and, having opened this bottle, you should already be at the dining table, so everything is in order and the world is good.
We enjoyed our "test" bottle with pumpkin tortellini, fresh spring sage and an exceptional extra virgin olive oil and the delicate, yet emphatic stamp of field honey, and the dry, piquant finish presented to the tongue as two lovers entwined.
Only mildly sparkling, and under heavy chilling the spritz will fade even further, we think this low conditioning suits the style." - Two Metre Tall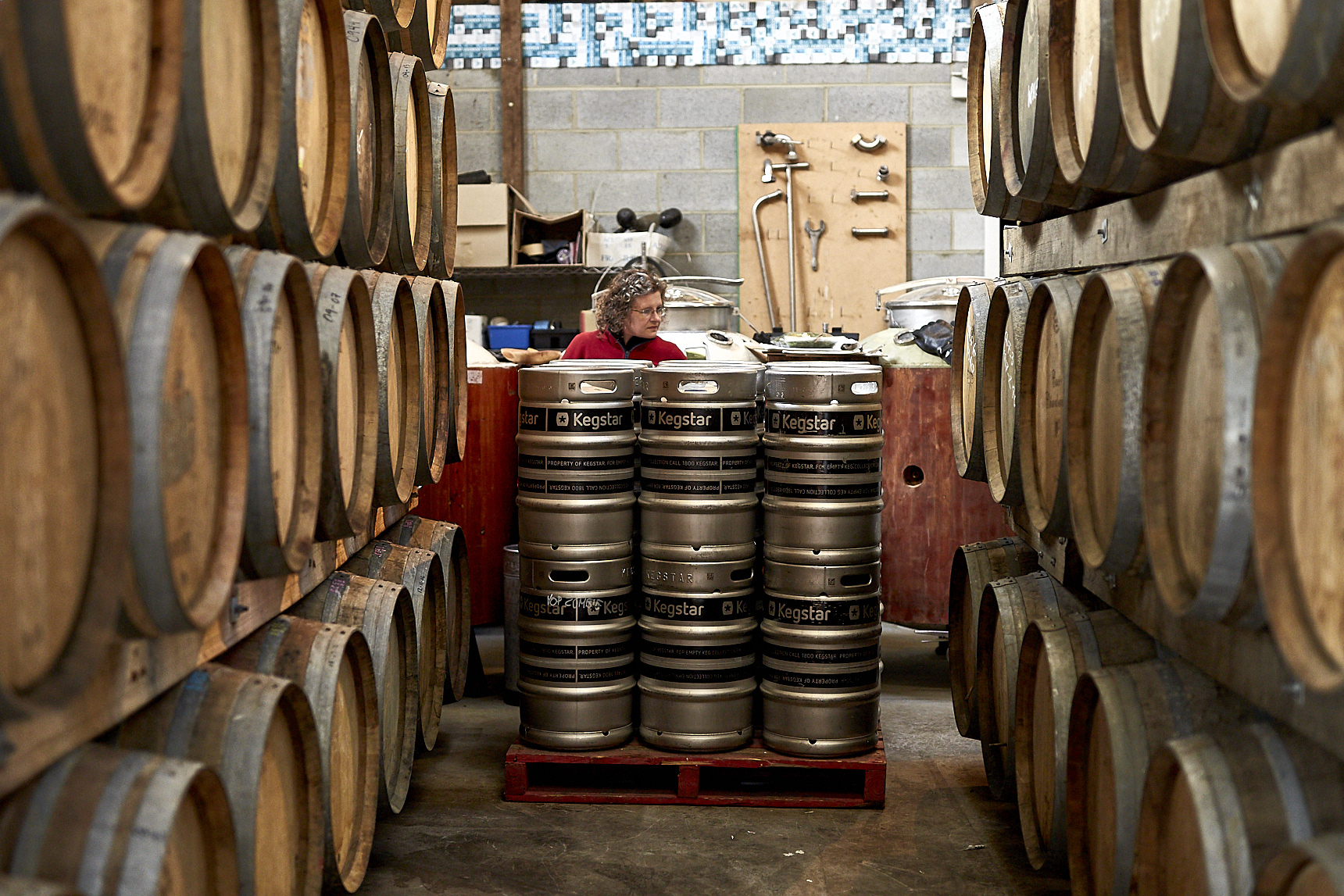 (Image: Two Metre Tall - Tim Grey Photography)