The 2020 Season
2020 will be remembered as a long, drawn out, mild, growing season, requiring patience in the vineyard and a gentle hand in the winery. The 2020 growing season in the Yarra was refreshingly cool and reasonably wet after two very warm and dry vintages in 2018 and 2019. Despite the cooler conditions, there was more than adequate sunshine hours to ripen our later season Quintet varieties, allowing us to pick at the desired flavour ripeness whilst retaining an abundance of natural acid. Shocking flowering weather in November 2019 reduced the 2020 yields to roughly 50% of our expectations.


62% Sauvignon blanc, 28% Semillon, 10% Muscadelle
The cool season of 2020 has produced one of the most aromatic and fruit intense Triolets in recent memory. Whilst it is somewhat atypical of the Triolet style, it is not an intended departure in our winemaking traditions; more a function of the season and the resultant flavours that developed on the vine. This wine spent an additional 6 months in oak (18 months in total) to tame the primary fruit expression and build a little more secondary complexity.
The nose opens with passionfruit, guava and a hint of pineapple. There is an attack of flavour on the palate leading again with passionfruit, some lemon/lime influences and nashi pear. The phenolics are long, soft and exceptionally well integrated for a wine so young. This could prove to be a Triolet for the ages for those patient enough to let it rest in the cellar for the next 10-15 years.

Winefront Review by Gary Walsh
Posted on 15 September 2022
 "Sauvignon Blanc 62%, Semillon 28%, Muscadelle 10%.
Wow. This is pretty wild and very intense. Blackcurrant, fresh cut fennel, violets, spice, funk, nettles, lime rind. It's showtime! Tight and tangy, all grapefruit and passionfruit, a glossy feel, but so flinty and sapid, thistle and zest, flinty texture on a long grapefruit pith finish. This is quite a wine. Embryonic as at now, and it feels so built for ageing. Excellent, but quite a different style for Triolet. I really like it."
95 Points


2020 was such a phenomenal vintage for Chardonnay in the Yarra. This wine sits somewhere in between the 2012 and 2017, with the taut acidity of the 2012 and the power and intensity of the 2017. There is a slight hint of flint on the nose, but really it's defined by the expressive primary fruit it exudes. Green apple, citrus, pear and a hint of butterscotch and toast are all present. The palate walks a fine line between stone fruit and melon flavours. The 25% new oak shows some presence, but the power of the fruit sits well on-top ensuring the oak is merely there for background complexity. The acid and phenolics work perfectly in tandem to bring austerity to the palate and draw out an exceptionally long finish. This wine needs an additional 3 years in the cellar, at a minimum, before it will begin to show its best.

Winefront Review by Gary Walsh
Posted on 15 September 2022
 "Small yields in 2020, but a good vintage.
A flinty, gun metal thing, nectarine and lime, cinnamon brioche, some white flowers and aniseed. It's concentrated and flavoursome, nectarine, pear and pink grapefruit, spicy biscuit oak, a fine chalk dust feel, glossy with with tight acidity through its core, and a spicy finish of fine length. A more intense vintage of this wine, a little more bold and savoury, but really good. Juicy!"
95 Points

2020 Pinot Noir

Mount Mary Pinot noir has never been particularly dark in colour, nor is it something we strive to excessively extract during fermentation. It is a component of the vintage conditions and we believe should not be adversely manipulated beyond that. Despite the cool vintage, there is an appealing crimson red, ruby hue to this wine.
The nose is so vividly 'Mount Mary Pinot' with dominant aromas of stewed strawberry, plum and quince paste with some slightly sweeter, spicy notes attributed by the new oak portion. The cool conditions of the 2020 vintage have delivered such fruit purity, both on the nose and on the palate. The palate carries on with aromatic primary fruit descriptors as we are made to wait patiently for some secondary complexity to build in-bottle over time. There are ultra-fine tannins running through the core of this wine, contributing savoury characters and length and longevity to the wine.

Winefront Review by Gary Walsh
Posted on 15 September 2022
 "Wines are sold out at winery, and really, there's no good reason to send samples, but Sam Middleton is a good fellow, so we get to review them for an adoring public.
Strawberry, kind of autumnal and savoury, fine spicy oak, a little sarsaparilla richness and dried rose. It's bright and fine-boned, gossamer tannin, fresh red fruits, gently toasty cinnamon oak adds a layer of mouth-perfume and something of an exotic character here too, freshness and excellent length, with a subtle powdery grip. Graceful and delicate. And a distinct 'mineral' feel this year, or so I think. It's a beautiful wine. More to come."
95+ Points

2020 Quintet

44% Cabernet sauvignon, 30% Merlot, 18% Cabernet franc, 4% Malbec, 4% Petit verdot
The quality we were able to produce in a relatively cooler vintage such as 2020 is not only a testament to how well suited these Bordeaux varieties are to our site, but also to the endless amount of work, effort and attention our vineyard team puts into growing the best possible fruit we can in any given vintage.
The nose is dominated by red fruits (namely cherries), just-ripe plum and blackcurrant. Spice notes of cinnamon and cedar oak are present here also. The palate is light to medium bodied, but shows the hallmark Quintet understated power, length and intensity of flavour that we have become accustomed to over the past 5 decades. There is a chewy, chalky, quite prominent tannin profile to this wine that will soften and become more integrated with time in-bottle.

Winefront Review by Gary Walsh
Posted on 15 September 2022
"Cabernet Sauvignon 44%, Merlot 30%, Cabernet Franc 18%, Malbec 4%, Petit Verdot 4%. As a little story, I'll tell you that the winemaker from Te Mata Estate (Phil Brodie) came around to our house for tea the other month, and I nipped down to the cellar and opened an 18 Coleraine alongside an 18 Mount Mary Quintet, to compare and contrast. The wines very similar in style, in a way, and both equally good. No losers that night, only winners. We also opened a fair few top shelf Bordeaux, and yet, my favourite wines were the Quintet and Coleraine by a margin. So, there you have it.
Blackcurrant, cherry, violet and cedar, rolling tobacco, aniseed and spice. Medium-bodied, gentle flow of small berried fruit, perhaps some ripe and sappy tomato flavours in the mix, and while maybe not quite as concentrated in the mid-palate, and less tannic than some prior vintages, it still lays on the charm and drinks beautifully. Light dusty tannin runs on a long finish. Graceful, and maybe more like a Quintet from days or yore? Fine wine. Distinctive and very good."
95 Points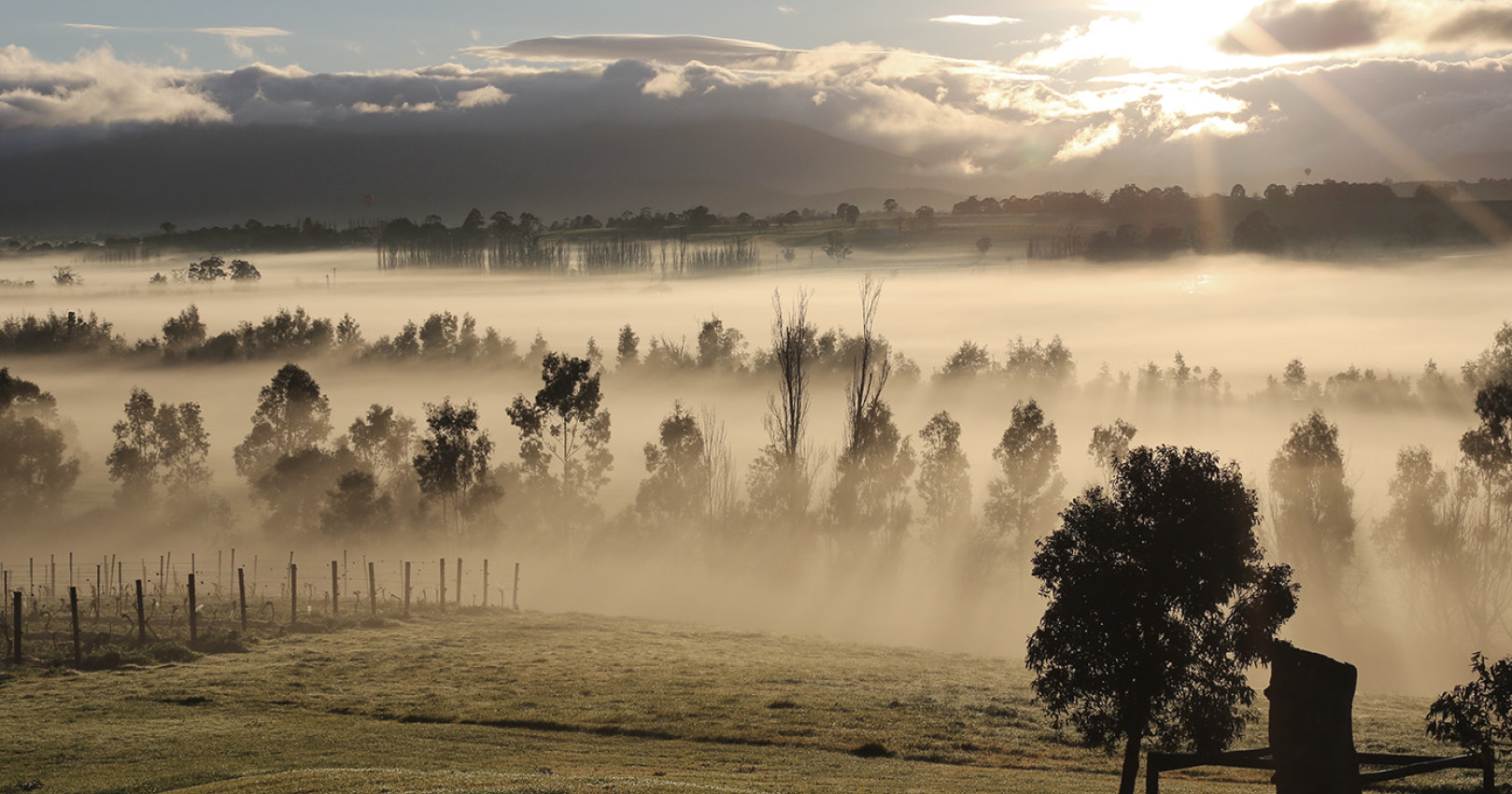 (Image: Mount Mary Website)