Brian
2018 Oregon releases
_________
From part-time Brian Mike Bennie:
'Yes, that's right, the quixotic and exciting Brian winemaking outfit have been making wines in Oregon since 2017. The Tasmanian wines, 'Rizza', '3Pinots' and 'Gris', are mirrored in Oregon, using almost identical winemaking approaches...
Brian primarily source from and produce at Keeler Estate Vineyard - Eola-Amity Hills - which is certified Organic, Biodynamic, LIVE certified and Salmon safe certified. It's a remarkable vineyard, unsprayed with anything for over a decade, and dry grown. All wines are zero additions. Good times.
Brian Oregon 3Pinots is 50% pinot noir, 25% pinot gris and 25% pinot blanc. It is gently fermented on skins for around two weeks, pressed off, sent to old barrels and left alone. It's a pale, light red, so very bright and refreshing, all cherry juice and cranberry tang with gentle herb n spice stuff going on. It's a tight, thirst-quenching red with lots of 'finesse'. Oh yes. Superb stuff'.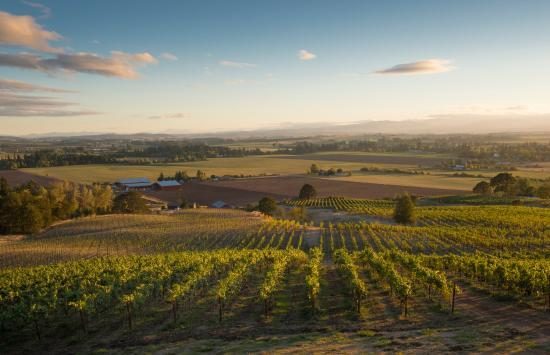 BRIAN OREGON RELEASE REVIEWS BY WINEFRONT
2018 BRIAN OREGON RIZZA
'From the Willamette Valley, Oregon, and comes in a 750ml bottle, as opposed the usual smaller serving size. America. Such an interesting wine we have here. Nutty, saline, roast chicken and umami things, but then comes a generous punch of fruit, with plenty of weight behind it. I'm thinking yuzu, papaya, lemon curd, and who knows what, really, with a firm cut of vigorous acidity, chalk dust, a nutty sake-like quality, and plenty of energy on a long finish offering crunch and sharp focus. I reckon this would be top-shelf with Japanese.' Rated : 95 Points. Gary Walsh.
2018 BRIAN OREGON GRIS
'This is 60% Pinot Noir, 20% Pinot Gris, and 20% Pinot Blanc from the Willamette Valley. 750ml. An in fact, the back label is incorrect. It's 100% Gris here, and likely the 3 Pinots is this blend. MORONS.
The colour is the eye of the partridge, it's the thrill of the fight. All manner of things going on here. Fresh strawberries dusted with pepper, watermelon rind, pear skins, pastrami, star jasmine. It's fleshy, powdery tannin grip, crunch of fresh strawberry and cooling watermelon, juicy but strict, the finish closing with length and a mashup of red wine/white wine flavours, and plenty of chalky tannin grip. It's like meeting a beautiful crazy person. And such great fun to drink.' Rated : 95 Points. Gary Walsh
2018 BRIAN OREGON ' 3 PINOTS'
'I'm not sure if it's three pinots or one pinot, but it tastes good either way. 750ml. Back label on my bottle gave no clue, though *I think*, it's 60% Pinot Noir, 20% Pinot Gris, and 20% Pinot Blanc from the Willamette Valley.
Such perfume and spice, almond biscotti, ripe cherry and strawberry, roses and pepper. Light to medium-bodied, so vibrant and full of crushed red fruit, paperbark tannin, cranberry crunch, a slight clod earthiness, and very cool and long to close. It's a serious wine in flippant packaging. I love this. It's like essence of Pinot Noir, without all the bullshit.' Rated : 95 Points. Gary Walsh.