(Image: Ben Gould - Blind Corner)
 

About
Organics, Biodynamics, making wine with no additives...
"Like many people, our journey to wine was through hospitality.
Naomi surfed & snow-boarded around the world and I worked in bars & on farms. I remember how fit I was back then...
One day my Dad bought a vineyard, a proper one, and he asked me to help.  Together we built a winery on it with the family. Then 10 years later it sold. Immediately Naomi & I started thinking about our very own vineyard.
If we started something, we wanted our kids to be able to play around in the dirt without us worrying. We wanted them to be able to pick fruit off of the trees and put them straight into their mouths without a care in the world.
A van trip to Europe, touring around every vineyard and surf break we could pack in, opened our eyes to what winemaking could be. We saw that you can use old-world techniques and blend them with new-world knowledge to create more natural wines.  I think about that trip every week.
It's taken a long time to get things right - nurturing new vines & testing techniques. As we've grown, we've bought another vineyard within the region, now with our own bottling line, allowing us to control more of the process.  Although this crazy machine controls us all sometimes.
The extra space has meant we've been able to add a Biodynamic vegie garden onto the property to help feed us and others, bee-hives to keep us in honey, and free-range chooks to scratch out the bugs in the vineyard.
We don't always get things spot on (who does?) but we are are proud to pour our wines to good people, letting them know our steps and mis-steps along the way.
Enjoy.
And leave the world a better place than when you arrived."
Ben & Naomi, Joe & Harry
2022 Releases

2022 Petillant

Like unicorn tears filtered through weaves of angel hair, this Petillant might be hard to make, but the results are what myths are made of. Sweet in taste and pastel in colour, it makes a hot day cool and a cool day life at the beach.
First, we take the pressings portion of the Chenin and wild-ferment it in barrels. Then we freeze a bucket of Shiraz juice for good measure as well. Once dry, or really really close, we immediately add more juice, blend the barrels and bottle. This way the wine keeps fermenting, but finishes in bottle, trapping the CO2 trying to escape and making it bubbly.

2022 Cremant

 Traditional method sparkling, reminiscent of a Loire Valley style. Chenin Blanc weaving its magic in the bottle. The ultimate party refresher - poolside, beachside, street-side...mother-in-law's side.
2022 Blanc

Let's face it, white wines aren't actually white, unless someone has put peroxide in it or something. The Blanc wine's delicate pink tinge is a natural legacy of the grapes' colour at harvest (both these varieties are prone to pinking in Australia). A commercial winery would remove the colour using a chemical addition, but not here. This is what you get when something relatively simple over delivers on pleasure. A juicy, racy, gluggable white with stone fruit and grassy notes that well delivers on its promise.
A classic dry white, with enough sweetness to give your taste buds something to dance around. The fruit comes from our Quindalup vineyard and is simply made in a stainless steel tank for freshness.

2022 Orange

This blend uses just about every variety of white/grey/gris you can think of - Pinot Gris, Sauv Blanc & Chenin, then blends them in a rolling wild ferment. All skins are left in through the process to add tannin tang and a wonderful mouth texture. The result is a cloudy, yellow/orange-coloured wine that tastes like rainbows and textured like sun. We blend this bit with 3x neutral wild ferment vessel action and add a teeny dash - like teeny - of some estate grown Cabernet to bring it home and makes your eyes understand what your tongue is trying to tell you.

2022 Rouge

Some partnerships create a magic that could never be realised alone - bacon and eggs, surf and sunshine, Siegfried and Roy. Shiraz & Cabernet Sauvignon is another match that delivers something greater than the sum of its parts. Blend the rich upfront flavour and lingering aftertaste of Cabernet, with the silky softness consistency of Shiraz, add a splash of Merlot, and you have a Rouge of super delicious deliciousness.
This blend has been simply foot-crushed, hand-plunged during wild ferment and basket pressed to old oak for some sleepy time. Usually the Cabernet, Shiraz & Merlot are all from from our Quindalup vineyard but a low-yielding Shiraz block in 2020 lead us to a search for more top-notch organic Shiraz - luckily discovered just down the road. Add in a chocolate pudding and you might just get a ménage à quatre of taste that you're willing to sacrifice your first born for.

2022 Nouveau

Imagine how sweet you'd feel if you were released from jail early. Now capture that joy in a bottle. This is the Blind Corner Nouveau.
Maintaining its rugged heart underneath, this early-release Shiraz is fermented at 5 degrees Celsius for 2 weeks before crushing. During this time the grapes go through 'Carbonic Maceration', which effectively ferments inside each grape until the oxygen runs out. This helps trap fresh fruity flavours and bright colours. Then we jump on the grapes and come back in the morning to basket press them, before maturing in oak barrels. The wine is fresh & clean, yet complex like any ex-con.
Get one bottle for yourself and one for your parole officer. Drink it cold.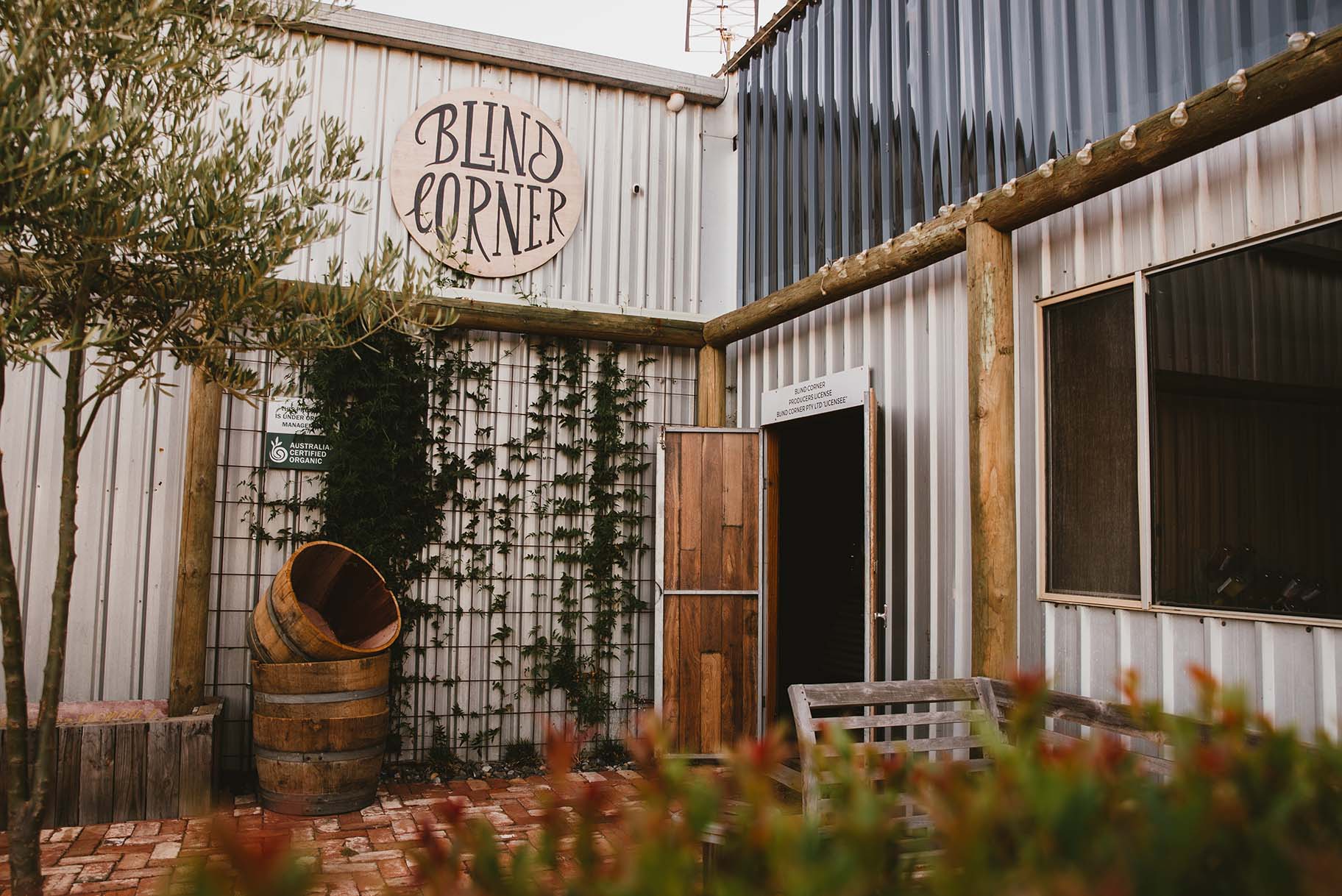 (Image: Blind Corner Winery)