About
Organics, Biodynamics, making wine with no additives...
Like many people, our journey to wine was through hospitality.
Naomi surfed & snow-boarded around the world and I worked in bars & on farms. I remember how fit I was back then...
One day my Dad bought a vineyard, a proper one, and he asked me to help.  Together we built a winery on it with the family. Then 10 years later it sold. Immediately Naomi & I started thinking about our very own vineyard.
If we started something, we wanted our kids to be able to play around in the dirt without us worrying. We wanted them to be able to pick fruit off of the trees and put them straight into their mouths without a care in the world.
A van trip to Europe, touring around every vineyard and surf break we could pack in, opened our eyes to what winemaking could be. We saw that you can use old-world techniques and blend them with new-world knowledge to create more natural wines.  I think about that trip every week.
It's taken a long time to get things right - nurturing new vines & testing techniques. As we've grown, we've bought another vineyard within the region, now with our own bottling line, allowing us to control more of the process.  Although this crazy machine controls us all sometimes.
The extra space has meant we've been able to add a Biodynamic vegie garden onto the property to help feed us and others, bee-hives to keep us in honey, and free-range chooks to scratch out the bugs in the vineyard.
We don't always get things spot on (who does?) but we are are proud to pour our wines to good people, letting them know our steps and mis-steps along the way.
Enjoy.
And leave the world a better place than when you arrived.
Ben & Naomi, Joe & Harry

2022 Pet Nat

Like unicorn tears filtered through weaves of angel hair, this Petillant might be hard to make, but the results are what myths are made of. Sweet in taste and pastel in colour, it makes a hot day cool and a cool day life at the beach.
First, we take the pressings portion of the Chenin and wild-ferment it in barrels. Then we freeze a bucket of Shiraz juice for good measure as well. Once dry, or really really close, we immediately add more juice, blend the barrels and bottle. This way the wine keeps fermenting, but finishes in bottle, trapping the CO2 trying to escape and making it bubbly.

2022 Governo

Like Sauvignon Blanc smuggled from an exotic bazaar, this wine has a familiar taste, but with added characters of blackcurrant flower, mandarin and Morrocan spice.
To make our new and improved Governo blend, a portion of grapes are hand- picked early and air-dried, before wild fermented 'on skins'. The remaining grapes are basket pressed and wild-fermented in old French oak, stainless steel and a concrete egg. These batches are then combined and lees stirred occasionally for 7 months, prior to bottling cloudy to maintain a nice orange hue.
The result is a taste that goes beyond what you normally expect from Sauvignon Blanc, transporting your mood to far-flung lands.

This small run of Pinot Grigio was hand-picked and wild skin-fermented - 10 days on skins, like a red wine. It was then foot-crushed and hand-plunged, before going into oak barrels for 3 months to finish ferment. The deep red colour is a result of the young vines' tiny bunches and, therefore, high skin to juice ration. This is a lovely example of this genre with chinotto-like orange round notes as well as hints of red fruit / pomegranate and smoky finish with a cleaning twist of grip.

2022 Nouveau

Imagine how sweet you'd feel if you were released from jail early. Now capture that joy in a bottle. This is the Blind Corner Nouveau.
Maintaining its rugged heart underneath, this early-release Shiraz is fermented at 5 degrees Celsius for 2 weeks before crushing. During this time the grapes go through 'Carbonic Maceration', which effectively ferments inside each grape until the oxygen runs out. This helps trap fresh fruity flavours and bright colours. Then we jump on the grapes and come back in the morning to basket press them, before maturing in oak barrels. The wine is fresh & clean, yet complex like any ex-con.
Get one bottle for yourself and one for your parole officer. Drink it cold.

2022 Cabernet

Like all good Aussie characters this bloke is generally referred to by his nickname, Cab Sav. But, while it's fine to shorten the name, it's best to take your time when blending one.
Made from two blocks of Cabernet, we foot-crush the grapes, hand-plunge them during wild fermentation and then basket press the result into old oak barrels, to finish fermentation and mature for 12 months. A portion of the wine is re-fermented on the skins from the Wilyabrup Bernard, which are first air-dried. Another portion is air dried and skin-fermented in its own right. This process creates more intense flavours, that blend to create a unique balance of currant and awesomeness. If you're having a sip, draw out the process of that part as well -swirl, sniff, taste, savour, and repeat until a smile hits your dial.

2021 Chardonnay Aligoté

Like your favourite comedian, this wine has a wonderfully dry delivery and flavourful punchline that will send your tastebuds into the giggles. It's Chardonnay base offers a full-body mouthfeel, with the Aligoté adding citrus notes for a subtle tang.
It is made from a single block of wild-fermented Chardonnay, which is slowly being overtaken by Aligoté grafts, all wild fermented in barrel and rough filtered to bottle, keeping the wine as close to the vineyard as possible. Easily the best (ahem, only) Chardonnay Aligoté from Margaret River in the last 100 years.

2017 Preservative free Bernard

Qantas Magazine described this wine "like Margaret River Cabernet with the volume turned way up". We like to think it's more like seeing a band live versus hearing them on the radio.
Made from a single block of Cabernet Sauvignon on the Blind Corner vineyard, the grapes are handpicked and air-dried prior to fermentation. This concentrates the flavours of the fruit, giving it a more powerful edge.
The grapes are then foot-crushed, hand-plunged during wild-
fermentation. The wine is left on these skins for 100 days and 100
nights. Then gently basket pressed to French oak barrels. There the blend matures for twelve months before being bottled without any fining.
Perfect with red meat braising, the fire blazing and conversation raging.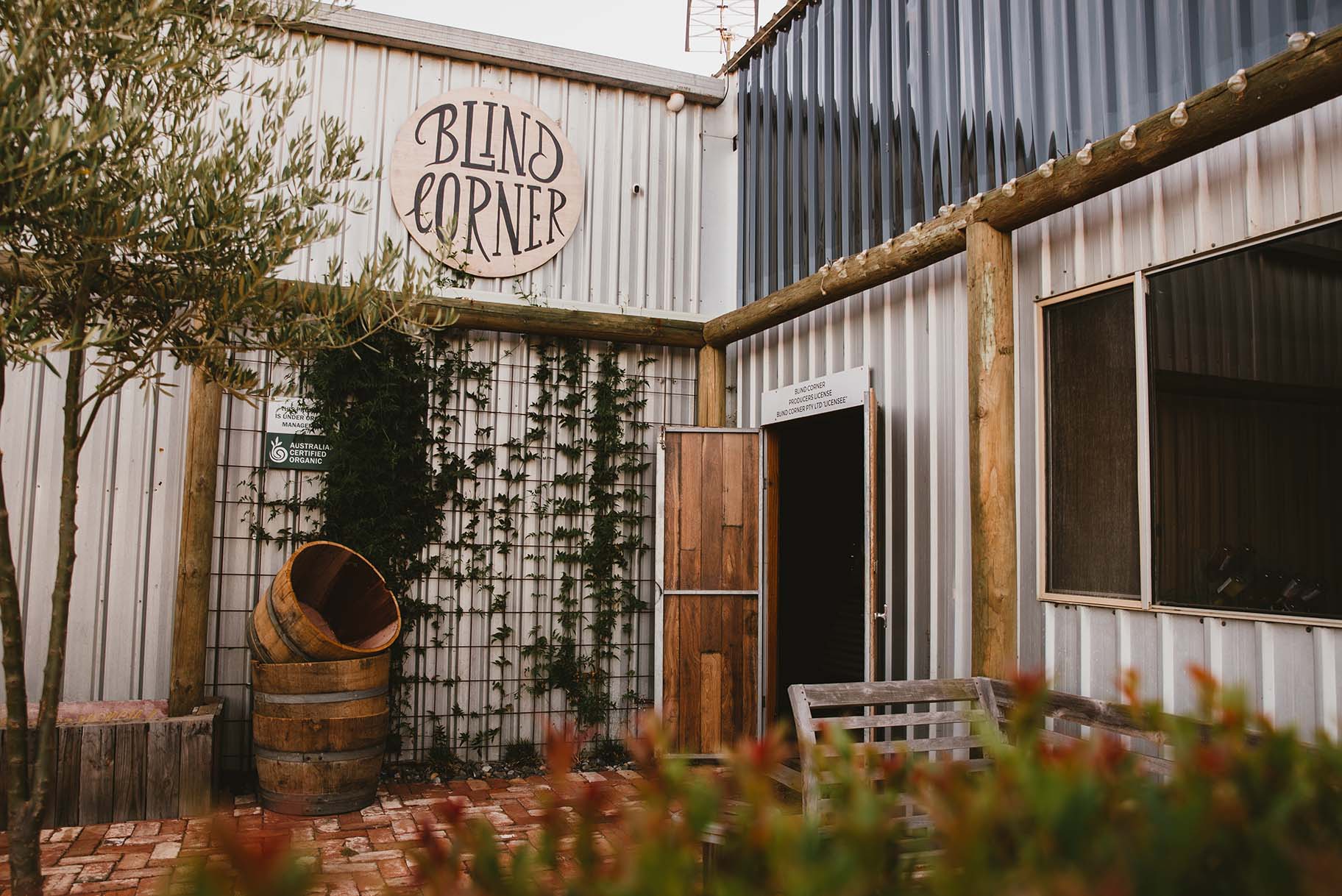 (Image: Blind Corner)