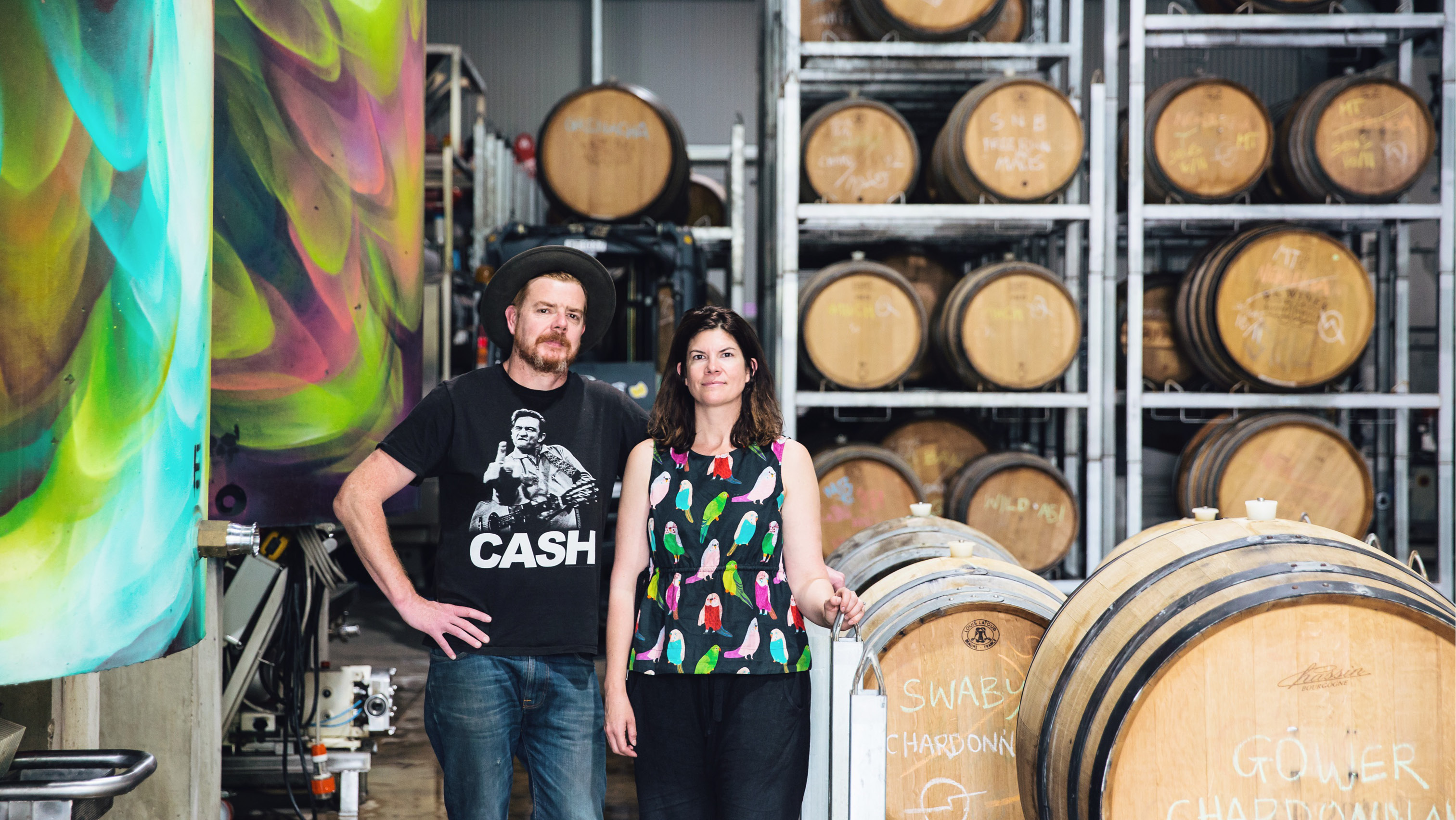 BK Wines Spring New Releases
2021 CIDRE
What a difference a year makes! Where 2020 saw the one of the smallest grape harvests in recent memory but apples by the bushel-load in our newly adopted orchard, our second cidre vintage was at the other end of the spectrum – a tiny crop of apples amidst the largest grape haul in the Adelaide Hills since 2008. But as we learn more in the cidre space, we're coming to understand that, unlike grapes, it's not uncommon for a large season to be followed by a small one. There's always something new to know! Deeply concentrated fruit and slightly higher alcohol than our first vintage (~8%) with amazing colour, driving acidity, and creamy foam. It tastes – for want of a more complicated note – very much like apples, and is a true ode to the cidres of traditional Normandy farmhouses. Crushed and pressed direct to barrel. Wild yeast. Bottled with a small amount of residual sugar to create carbonation. Only 55 dozen made.
2021 PÉTILLANT NATUREL CHARDONNAY
If all things made sense in this world, everybody would love Pét Nat. At its charming best, it is Champagne minus the fuss and trouble – and if we've learned nothing else over the recent past, surely we've learned the value of keeping life blissfully uncomplicated. And by that we do mean both: lose the convolutions, retain the bliss. Beautifully settled and clear with just a dusting of lees at the base of the bottle, our Pét Nat Chardonnay has all of the flowers-and-biscuits character and foamy mousse of a good blanc de blanc. Proof that there is no shortage of interest and beauty to be found in simplicity. While it isn't our intention to tease, this is very much a summertime wine, though we dare you to control yourself and hold back a few bottles until summer arrives. 100% Basket Range Chardonnay. Whole-bunch pressed to concrete 'egg' fermenter. Fermented until nearly dry.
2021 PÉTILLANT NATUREL PINOT NOIR
This season's Pét Nat Pinot Noir, in addition to all the joy it brings to drink, can be almost as pleasurable just to open up and sit and watch... a veritable lava lamp of lees. Unmistakably and purely Pinot Noir on the nose, just-ripe raspberries on the palate. So many processes of control go into making a Champagne, while Pét Nat is permitted to largely create itself. Where last vintage resulted in a sort of wild, messy, walk-of-shame debauchery, this vintage is tidy and compartmentalised, with a glittery bead and velveteen mousse. Good, clean, bubbly fun. 100% Lenswood Pinot Noir. Whole-bunch pressed to concrete 'egg' fermenter. Fermented until nearly dry.
2021 CARBONIC CHARDONNAY
Our first Carbonic Chardonnay since 2017, not for want of love but for the reality of several years of smaller vintages than the one we've just seen in 2021. Chardonnay runs the style gamut – from bracing Chablis to well-buttered Meursault and at every station in between, this chameleon grape lends itself endlessly to resculpting and evolution, and all iterations have their charms. That said, it's hard for us to bypass the allure of phenolic depth contributed by skin contact. Our Carbonic Chardonnay, while meant to be enjoyed fresh and young, has seen some skins in its short time and is a true standalone. Heady florals give away the youth, underpinned by the punchy forwardness of judiciously applied carbonic treatment. White peach and fineness on the palate, with a direct, acid-driven structure – the 'reverse teardrop' effect we call it here, with full fruit purity at the top, concluding in a crisp apple candy full stop. Our recommendation is two bottles back-to-back: the first to consider where this wine resides in your stylistic vernacular, and the next just for fun. 100% whole-bunch Chardonnay fermented in concrete for 10 days and pressed to stainless steel
2021 CARBONIC PINOT NOIR
Our spring-release wines – the first cabs off the rank from the harvest just gone – offer an opportunity to see how our earliest predictions of the vintage stack up against reality and read the tealeaves for what time will continue to bring for our barrelled wines. If our Carbonic Pinot Noir is anything to go by, 2021 promises to be a truly great vintage. A concentrated, springtime-fruit basket nose with suggestions of charcuterie, you could almost be convinced you were drinking a Gamay or a bright Syrah. Carbonic maceration gives Pinot Noir a very particular aromatic profile and a seductive lift. Cherry seeds, a sprinkle of cinnamon and Aperol with a citric twist on the palate, with soft tannins to soothe. For a wine so young to achieve balance means many great things for the wines to come. We shall quite cheerfully sip away at this one while we await its more ponderous siblings. 100% whole-bunch Lenswood Pinot Noir. Three weeks in large wooden cuvée. Full carbonic maceration.
2021 SAIGNÉE PINOT NOIR
Our Saignée – meaning the first flush of juice 'bled' off, rather than pressed out, of fermented grapes – is a pretty deliberate commentary on the evolution of our views on rosé, with heartfelt inspiration taken from Eric Pfiffering's L'Anglore Tavel Rosé. Where we used to tend toward rosé in the blush, lean Provence-esque style, our thoughts on the matter have taken a turn. What we now look for is really better seen as a very pale red, a wine that can stand up to bigger food dishes and, despite its bloom of youth, offers more opportunity for consideration. The alchemy that comes with a few extra days on skin takes our Saignée beyond strawberries-and-cream into the super-ripe strawberry realm, with quince paste complexity on the back palate. Reflective of what is going on in our winery (in our lives) with a bit more maturity and clearer head space, this wine sings springtime for adults. 100% Lenswood Pinot Noir. Bled off after 72 hours. Fermented in steel.