About
'Winemaker Owen Latta's age belies a wealth of experience, making him a deserving winner of the Young Winemaker Medal for his quality Eastern Peake and Latta Vino wines.
Second generation winemaker Owen Latta is the Ballarat kid setting the Australian wine scene on fire. Between the premium wines of Eastern Peake and the more expressive, avant garde releases under his own, eponymous Latta Vino range, Latta has shown his mettle as one of Australia's most thoughtful and daring winemakers. " The purity and natural architecture possible from just grapes and skins is something Latta is actively seeking."
Indeed, there are few people in Australia so adept with lo-fi winemaking, eking out maximum flavour, vitality, freshness and poise, including when no sulphur is added at all. "I am increasingly seeing that long, slow maturation prior to bottling helps no-sulphur wines," Latta explains. "The purity and natural architecture possible from just grapes and skins is something I am actively seeking in terms of feel, structure and balance." While Latta's career has not been long it shows an incredible depth of experience that places him at the apex of winemaking in Australia.'


Vinification
Whole bunch pressed, indigenous yeasts, long cool ferment, unforced naturally occurring malo-latic fermentation, 8 months on full lees contact, unfined, unfiltered, untinkered.
Site
Clone: F4V6
Region: Pyrenees
Altitude: 330M
Vine Age: 15yrs
Sauvignon Blanc from the Mullens vineyard in Moonambel, Pyrenees Victoria. Great people who love their vineyard. This is a seriously good piece of ground. The vineyard has been dry grown now for over 10 years on quartz theres very minimal top soil, it doesn't make any sense why it is what it is but thats the beauty. Cropped at 1.2 ton to the acre.
Four picks over 4 weeks all whole bunch pressed straight to stainless to ferment on its own with zero additions. Left to rest on full lees for 10 months.
Winefront Review by Mike Bennie
Posted on 27 August 2022
"Sauvignon blanc from a unique, tucked away site that's been dry grown for ten years and yields around one tonne per acre.
Scintillating, brisk and minerally expression with little similarity to rank and file sauvignon blanc, in a classic sense. Sea spray scents, brine-laced flavours, tart lemon-lime fruit characters with just the faintest wet fern and fennel herbal notes in the mix. Rips along the palate at pace and shows some light, powdery pucker too. So refreshing! A delight."
94 Points

2021 Bad Reputation Viognier
It's Hard to believe we've been producing pyrenees Viognier for six consecutive years strait… It grows really well in the pyrenees, quite a few plantings went in during the mid 90's & very early 2000's when it seemed to be on a some what trend for that time. Now with vine age on side it's a really interesting variety to work with, hopefully many more good examples arise over the coming years.
Grapes are grown in Moonambel, pyrenees at dalwhinnie by the talented Sam Bartlet. whole bunch pressed, barrel fermented, full malo, 12 months in barrel, No fining, filtering or Tinkering
Only 3 barrels produced.
Winefront Review by Mike Bennie
Posted on 27 August 2022
"Not to be confused with the Bad Reputation Blanc with zero sulphur, but also perhaps to be confused with as I was for a bit. Moonambel, Pyrenees, the Dalwhinnie site is the source for this viognier. Owen Latta's sticky taped-to-bottle notes let me know this is the sixth consecutive vintage of this wine. Whole bunch pressed and matured on lees in barrels.
Scintillating. savoury, salty white wine of mouth-watering freshness and strong, minerally charm. Scents of lime squeezed on apple with oyster shell minerally whiffs. Green apple, lime to taste too, again, the saline character is strong here and the wine finishes with light, almond savouriness. It feels compact and medium weight with great pucker and a long trail of that salinity going for ages. Wonderful, serious, excellent expression."
94 Points

2021 Precarious - Bianco O2 (Contact)

 Its back!
Last produced in 2018!
The same experiment as last time
Precarious wine is a continuous fermentation, a rolling ferment that runs all vintage.
A bit like the Master Stock in the winery I guess you could say….
It begins with Sauvignon Blanc & Finishes with Gewürztraminer with Chardonnay, Viognier & Riesling in between. All fermented in Stainless Steel. Its a risky wine to make as it goes on quite the journey… It can look Unbelievably Strange at times in the end leaving it to do its own thing seems to work (6 month primary ferment handled oxidatively).
The Quality of the vineyard sources is more at play here than the winemaking.
Sauvignon Blanc (Moonambel, Quartz Bianco)
Chardonnay (Coghills Creek/Tarrington)
Pinot Gris (Henty)
Pinot Noir (Coghills Creek)
Viognier (One Bucket, Landsborough)
Gewürztraminer (One Bucket, Coghills Creek, Eastern Peake)
Winefront Review by Mike Bennie
Posted on 6 September 2022
"It's a heap of different grape varieties all blended through a rolling ferment. It was also left un-topped up, a bit. Geez Owen Latta is nailing the interesting, delicious wines.
Fragrant thing, lots of honeysuckle and frangipani floral characters, a bit of sea spray, green apple, faint nuttiness. Tart and tangy to taste, quite racy and herbal in a way, grassy, limey notes and green apple again. Super pleasing, interesting textural white wine here."
93 Points

2021 Ex Nihilo Pinot Gris 

We've been producing Pinot Gris now for 5 years, this is one of great examples of the style we like to produce. So pumped to get this wine out there. The Fruit is all from Tarrington, such an epic vineyard, it finally cropped really well in 2021. The vineyard looked so good from start to finish.
2 Different Harvest dates from the one site, skin Contact & direct press.
majority raised in casks 225, 300 & 600L formats. Some in tank.
Wine is Left to rest for months on Lees, racked then bottled. A small pinch of Sulphur added prior to bottling.
Winefront Review by Mike Bennie
Posted on 12 April 2022
"All Tarrington here. Overnight on skins, but does enough to stain the wine pretty. What a delight to taste with family Latta, in situ, on the farm, with icy wind howling outside. Warmed to the cockles by company and good cheer. And a wonderful, rambling winery it is, juxtaposed against that beautiful, minimalist cellar door with rolling, bucolic vistas spilling out everywhere. I will be back.
Slippery then grips, juicy and yet cut with swathes of mandarin-tangy acidity. Perfume, pleasure, presence. An exciting expression that sits on the edge of wild yet retains broad appeal. Vibrant and wonderful thing here."
93 Points

2021 What-a-Melon Rose

 Experimental Batches make up this wine each year, fun to make fun to drink is the aim of the game. Made from traditional varieties not using any classic or fine wine methods...
(An experimental rolling ferment throughout vintage)
Sangiovese - Moonambel
Pinot Noir - Tarrington
Cabernet Franc - Moonambel

2021 Landsborough Blush Syrah Rosé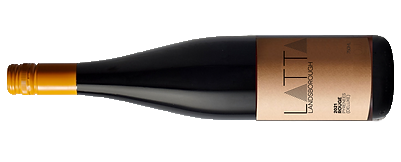 single vineyard
145 dozen produced
Certified Organic Syrah from Block Five, off the Chapoutier Vineyard. This is such an insane vineyard site it was hard to say no. Also its great to make some Syrah Rosé again
Region: Pyrenees, Landsborough valley VIC
Grower: Cory Hope
Vineyard: Landsborough Vineyard - Certified Organic
Grape: Syrah/Shiraz
Altitude: 330 meters
Soil type: Well drained soil composed of loose quartz with shale & siltstone.
Winemaking: direct press whole bunch, natural ferment, left on lees for 10 months then bottled.
Winefront Review by Mike Bennie
Posted on 7 September 2022
"Chapoutier site. Hello. Organic syrah done in a rose style.
Beautiful colour here. That 'eye of partridge' thing. Big, spicy perfume, scents of dried cranberry and rose hip tea here. Crackles with energy to taste, very crisp, refreshing, a little squeaky as it finishes, a little juicy too. Light, red berry fruit characters, a dusting of pepper and alpine herb too. Tangerine zing. Lovely stuff and very good."
94 Points

2021 Elusive Nebbiolo

Cameron & Robert John have been growing Nebbiolo at the Malakoff Vineyard for a while now, the vineyard is situated in the Landsbrough Valley Pyrenees Victoria. A fantastic vintage for the Nebbiolo off this site, the yields were high so got to make an entry level version.
3 harvest harvest dates this year, across a month. Fermentation was in open concrete wax lined very little whole bunch, basket pressed earlier than previous vintages. élevage for 12 months in 500L puncheons bottled in July 2022. It has been another patient waiting game, the wine looks so good to go.

2021 Shay's Flat Sangiovese

Site
Vineyard: Old Burns'
Region: Pyrenees
Altitude: 350m
Vine Age: 15yrs
Soil: Red podzolic soils overlying on a soil of ironic schists and quartz
2021 Shays Flat FRESCA Sangiovese
FRESCA (fresh)
This is grown by Cory Hope on the Certified Organic Shays Flat Site in the Landsborough Valley Pyrenees.
The 2021 season was plentiful, good sized crops across the board. The Sangiovese had a bigger crop than expected & slowed towards the end with its ripening, losing a bit of leaf.
It seemed like it was close to being harvest & was picked to avoid anymore deterioration on the fruit.
Fermented in stainless, pressed after 8 days to keep freshness, then barrelled down for 12 months in a variety of casks 225, 300, 500 & 600L.
It was light and fresh with heaps of detail & great acid, it was very interesting to find the wine was 10% alc, it tastes like 12%. Hard to believe this wine is low in alcohol but tastes like it's the right vibe.
Winefront Review by Mike Bennie
Posted on 27 August 2022
"Pyrenees site, organic grown. Picked at the flavour level of around 12.5% alcohol, says Owen Latta, but in the end landed at 10% alcohol by virtue of the testing after picking. Does well to meet its 'fresca' moniker.
Light and fine, crisp and crunchy, all cherry juice and cranberry tartness with a light dusting of clove and dried herb spice and herbs. Tannins are fine, silty and slip long after each sip to a building chew. Flavours are a little diffuse, but the idea is of a bright, refreshing red and it does all that superbly. A chill would go well here."
93 Points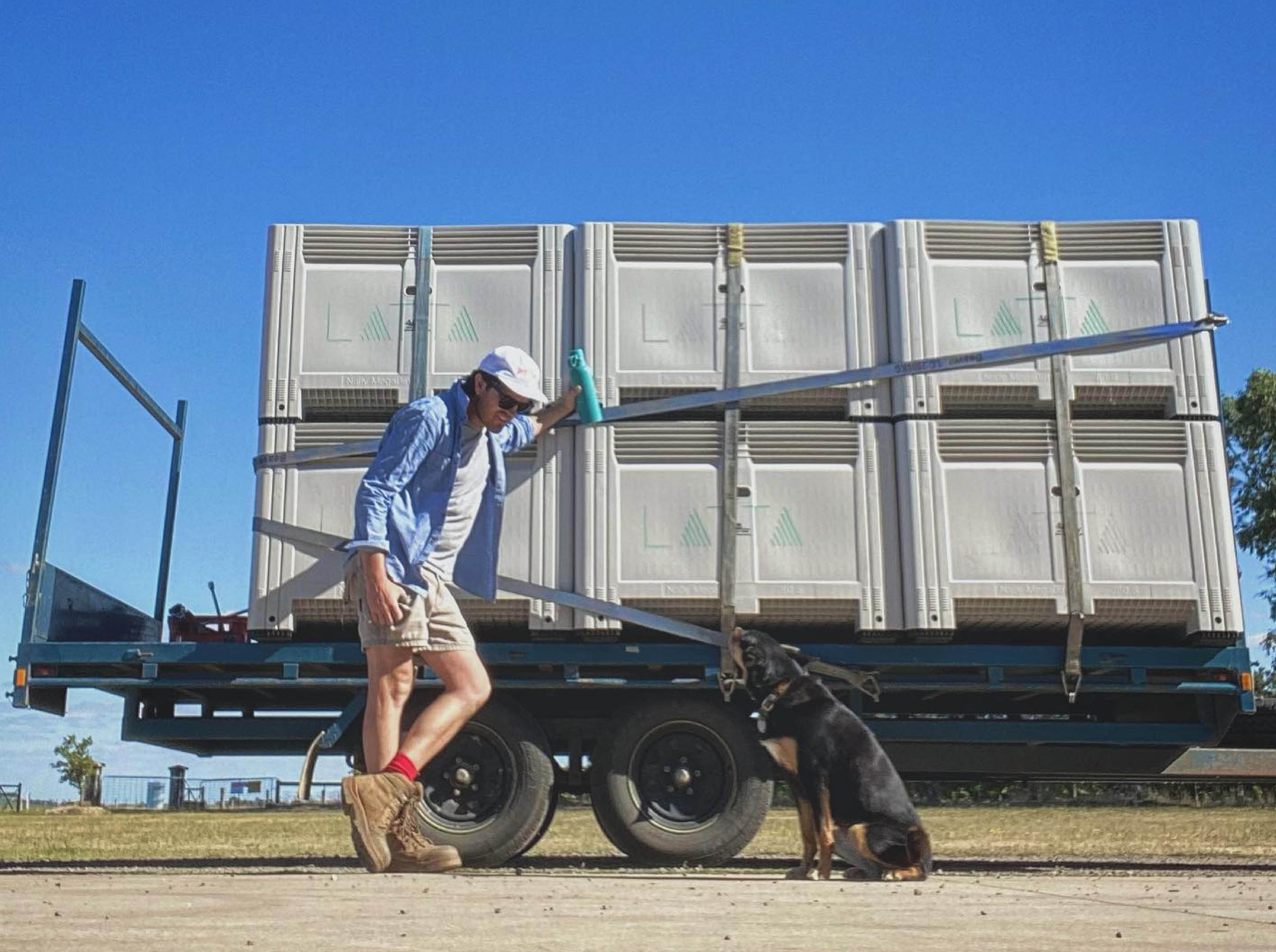 (Image: Latta Vino)