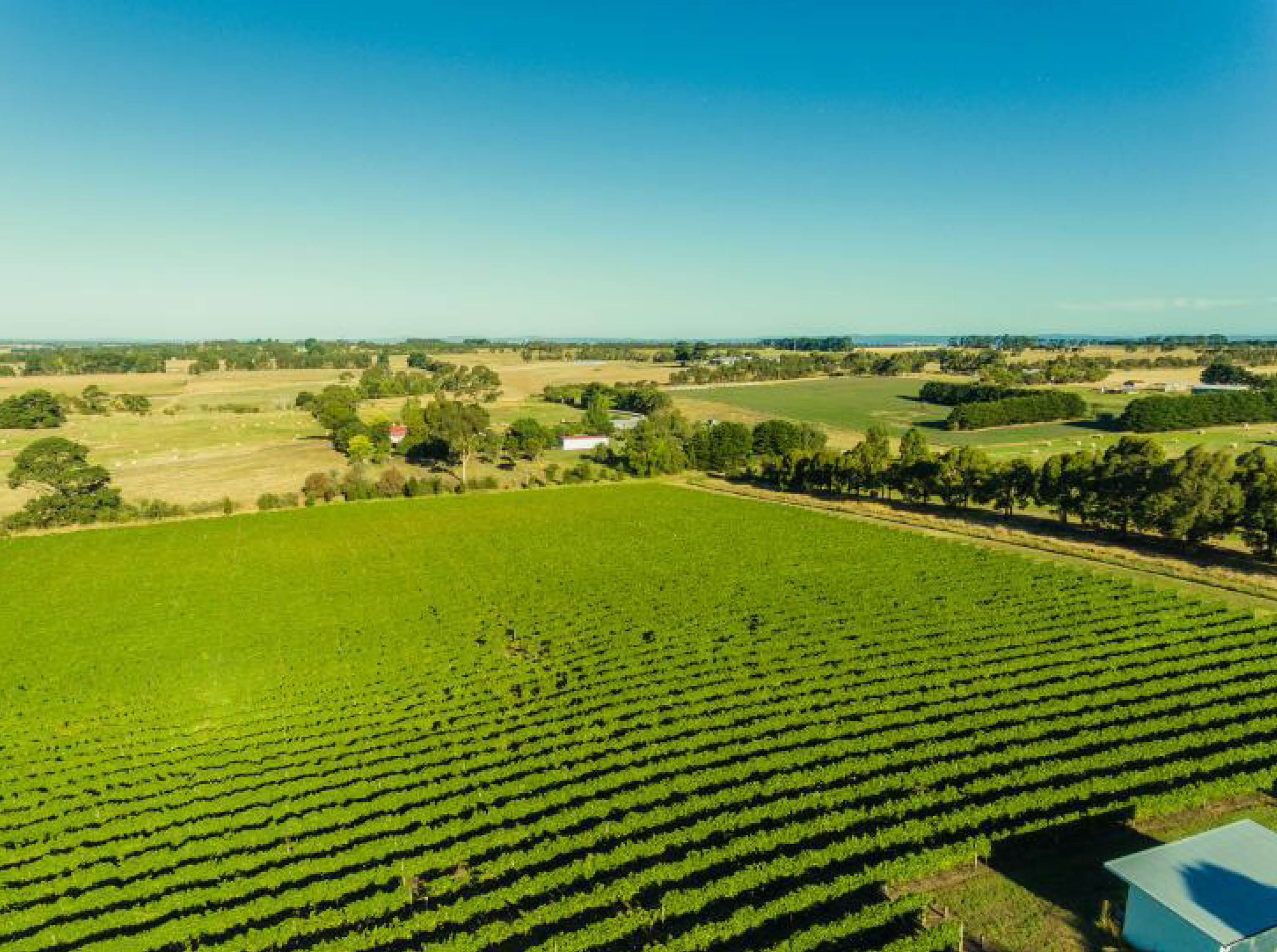 About
WINES FROM A FARR
IRREWARRA IS AN ABORIGINAL WORD MEANING 'LONG SPEAR THROW'
The vineyard is located in the heart of the Western District Farming country, approximately 150 kilometers south-west of Melbourne. Irrewarra is surrounded by inland lakes and volcanic plains. It is a diverse and beautiful landscape that relies on a high amount of natural rainfall throughout the year. The Western plains are quite exposed to the elements which contributes to the vineyard sites' mystique.
Overall the soils remain very moist throughout the year because of the clay based soil profile and annual rainfall of 885mm, resulting in the very attractive damp earthiness character in the fruit and wine.
It is a site that truly reflects the complexities and varietal characters of the vines that are planted in this cool climate region.
The vineyard was planted by the Calvert family in 2001 to a mixture of clones on own roots. It is predominantly pinot noir with 6 acres and accompanied by 2 acres of chardonnay. It is a site that shows great fruit expression with a deceptively long and mineral palate.
The Irrewarra Vineyard site has now been in the hands of the Farr family and team for 12 years. It generally takes 10 years for a new planting to bed down their roots and show consistent characteristics. Well it has also taken 10 years for us to truely un tap the potential of the Western District site. With the support of owners John and Browynn Calvert, the soil management and vine health is exactly where we want it to produce wines of unique cool climate viticulture. These wines are required in your cellars and to be enjoyed by any wine lover.
2022 Chardonnay

Awesome tension and complexity. It feels rich, and compressed, with notes of nuts, citrus and almost saline elments. The acid wrapping this wine up, but not stopping the fruit and spice weight from being shown. If you mention too many points of interest, no one believes you, but you could go on and on about this wine. Terrific oak use just adds to the layers in this one. Lovely stuff.
2021 Pinot Noir

A dense and ripe irrewarra, a fullsome nature that Colac can sometimes lack. Dark rep fruit, a little more brawn and intensity that moves it closer to the Bannockburn expression of Pinot noir by the house of Farr. Cold tea, asian spice and a lifted, almost polished character that seems to be based on rose petals, something floral but not over powering.  Silky texture, fine tannins and perfume.