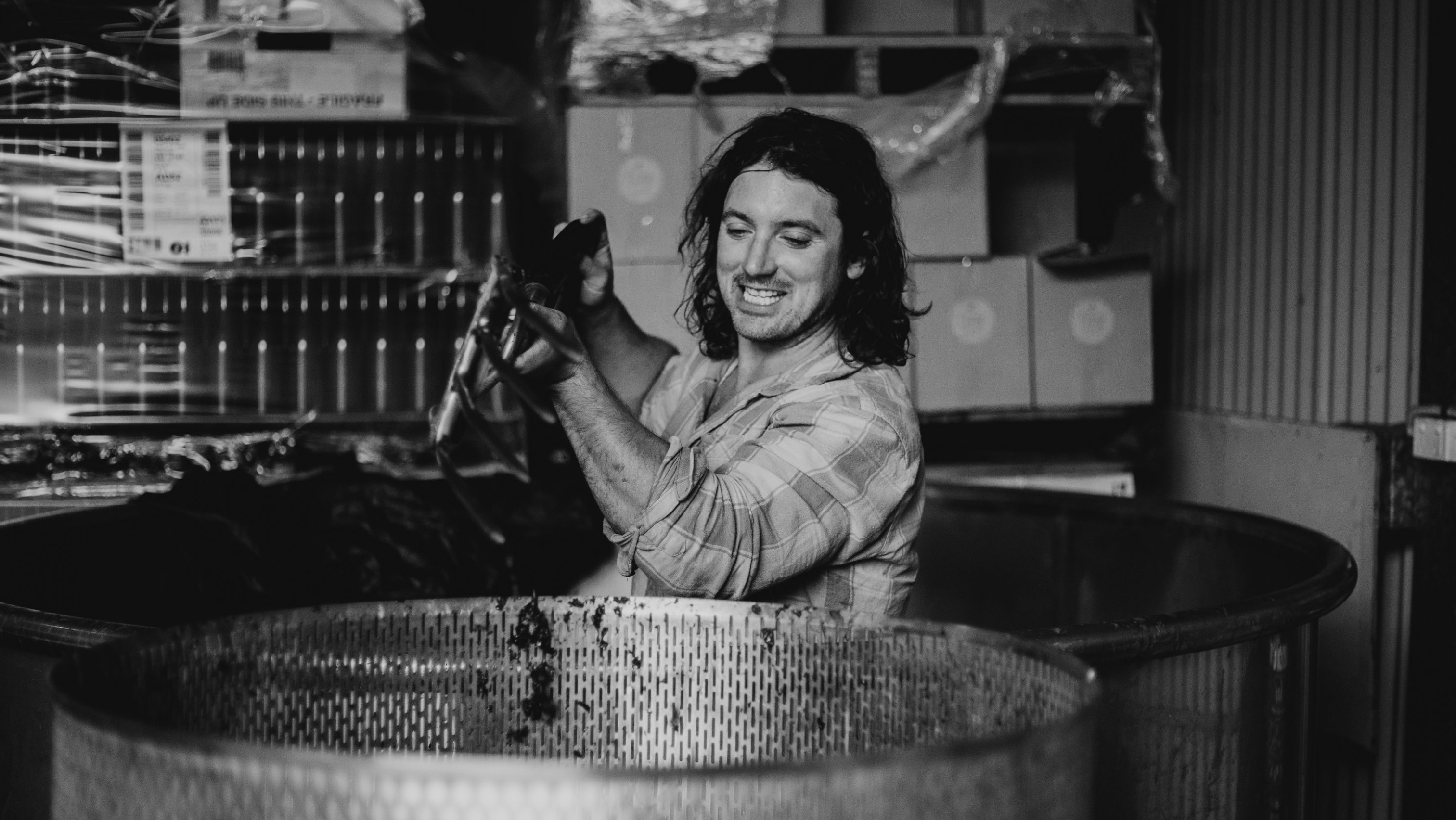 Express Winemakers Spring Releases
_________
2021 FOAMO
Organically grown Sauvignon Blanc and Pinot Noir bottled before fermentation was finished to provide some fizz. Tastes like ruby grapefruit, watermelon and fruit tingles.
2021 DRINKING WINE (WHITE)
Blending on the fly and trying to recreate the magic of the first white drinking wine, the final blend was roughly 55% Chardonnay, 30% Sauvignon Blanc and 15% Semillon. All organically farmed by us across our collection of Great Southern Vineyards and fermented by wild yeast at ambient temperatures, mostly in mature oak vessels of various sizes. The flavours are of lemon curd with big yoghurty vibes, generous weight and banging acid.
2021 GRAPEFIELDS
Organically farmed Porongurup Pinot Noir with a backbone of skin contact Semillon and Sauvignon Blanc. The final blend was a mixture of co-ferments and mono-varietal ferments, with a strong emphasis on the Pinot Noir. High energy palate of white strawberries, cherry juice and a little elderflower for ultimate refreshment.
Our 2021 Rose had a bit of a shake up to include some Pinot Noir from our Great Southern vineyards along with the familiar Grenache and Mourvedre from an organically farmed Margaret River vineyard. The wine is all forest floor characters of red berries and autumn leaves with a savoury af finish.
Made using our house proprietary method, this year it included a bunch of Syrah from our neighbours organic vineyard, along with Malbec, Grenache and Mourvedre. Always with those jubey wine gum feels and an acid line to carry it. An effortlessly smooth and thirst quenching red beverage.
The 2021 L'orange is a single vineyard wine from a little organic joint in Frankland River, 96% Riesling and the rest Semillon. Fermented on skins for a week before pressing off to a mix of stainless steel, old oak and concrete. In your face tannin, and acid and uniquely distinctive characters of white flowers and oranges.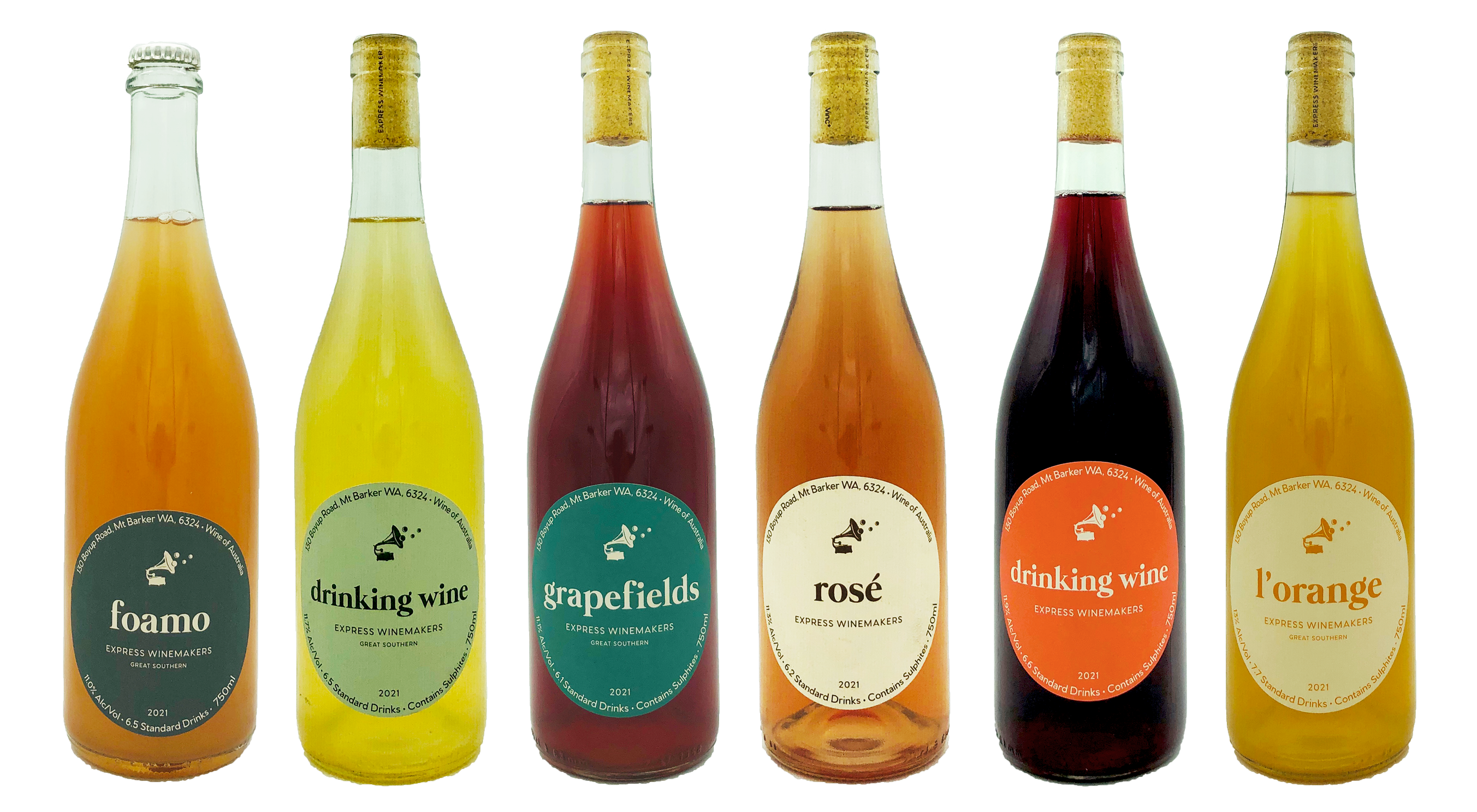 Winefront reviews by Mike Bennie
Posted on 11 & 12 September 2021
Express Winemakers Rose 2021
'Express Winemakers seems to nail the brief on so many wine styles, au naturale, but with clean lines and heaps of interest.
Strawberry, cranberry, pomegranate – red berries! Light and dry, faintly savoury, juicy but with a clip of cool acidity. Fresh, squeaky textured, zesty and with a light, Campari-like twist to finish. Zippy rose. Good gear.'
Rated: 90 Points
Express Winemakers Grapefields 2021
'A blend of stuff, hang that, drinks as per a more structured rose or a light, chillable (do it!) red.
Raspberry, cherry cola, floral characters, super fresh, bright, zesty and clean with a light click of tannins to close. Not changing the world but with a heap of purity and vibrancy on its side. Really delightful. So into these styles.'
Rated: 90 Points
Express Winemakers Foamo 2021
'Fear of missing out on pet nat.
Mandarin juice, tropical Berocca, bright and really good with its fizz. Zippy, crunchy, slightly chalky, dried mixed peel. Yum. Very delicious, quietly complex, serious in its intent and delivers a lot of party time good times too. This is a cracker.'
Rated: 92 Points
Express Winemakers White Drinking Wine 2021
'Does what the bottle says. Ideal, really. None of that 'Premium' or 'Reserve' crap.
Lemon juice, tonic water, sea spray. Light and yet distinctly textural, super saline, thirst quenching, limey but minerally but lightly savoury. Oh yes, yes! Not overly complex, but distinctly pleasurable, tense, lacy and taut. Wonderful drinking. Everything I want in a summery white for the bucks.'
Rated: 92 Points
Express Winemakers l'Orange 2021
'l'Orange gets around the label integrity stuff that makes Orange region of New South Wales huffy. Onya, Express Winemakers.
Slurpy orange wine, very refreshing, strongly mandarin focused with excellent ribbons of dry, powdery tannin lending shape and a click and pucker. Lighter than expected but delivers good intensity and yet holds its thirst quenching nature nicely. Frisky thing. Go in!'
Rated: 91 Points
Express Winemakers Red Drinking Wine 2021
'Do the drinking wine.
Cherry cola, kirsch, floral notes, rose petals, green herb. Delightful perfume. Squirts into the palate with cola and cherry and rose water vibes, mighty gluggable, rips along with refreshing acidity, finishes tart and light and dry. Bravo.'
Rated: 92 Points