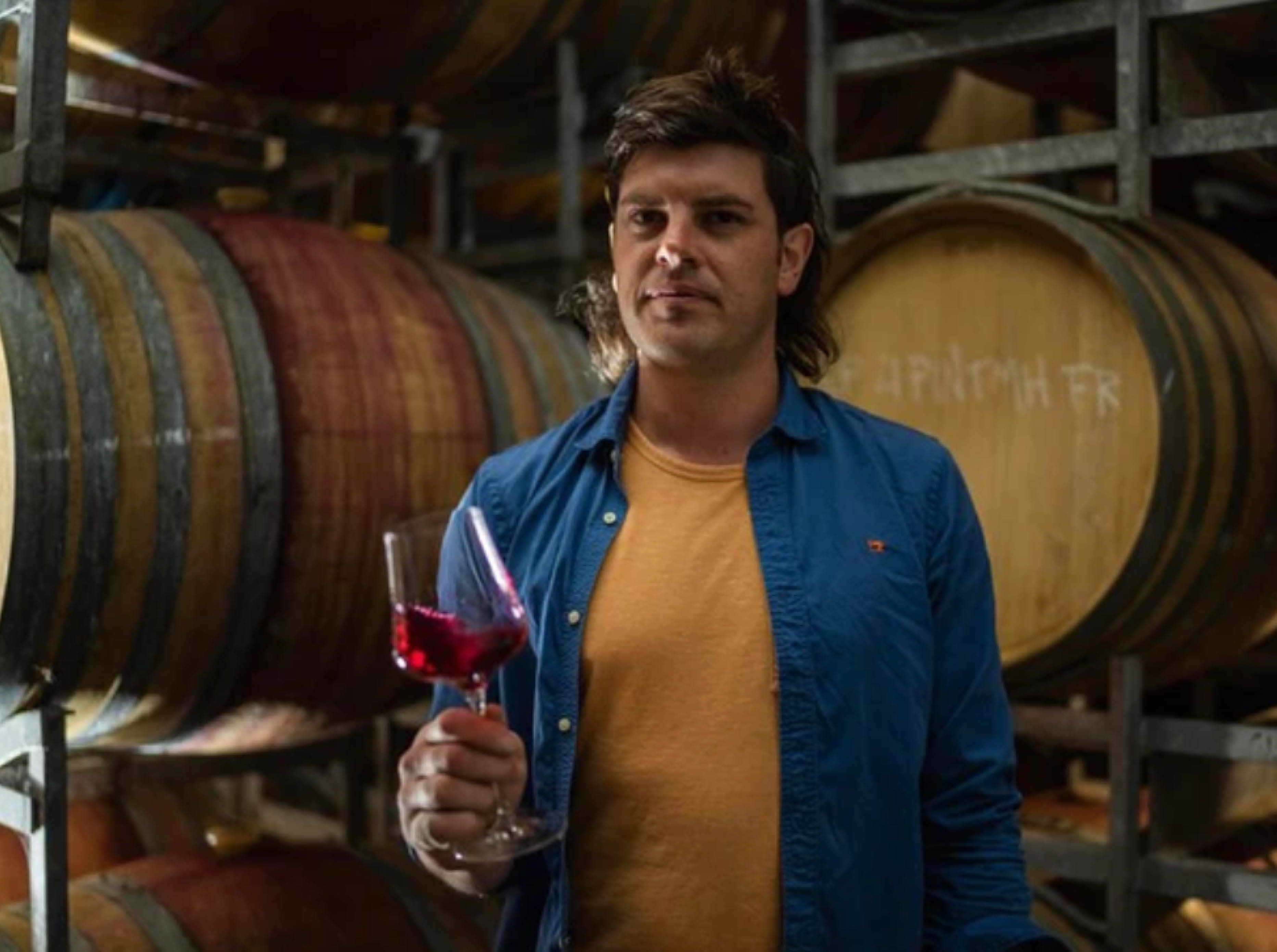 (Image: Owen Latta - Eastern Peake / www.easternpeake.com.au)


About
Eastern Peake Vineyards are set on a small plateau at Coghills Creek in the Ballarat Highlands some 25 km from Ballarat. A dramatic backdrop of a rugged granite outcrop of Mt Bolton, namely 'Eastern Peake' is to the west of the vineyard, creating the stunning view seen from the property. The east the vineyard overlooks the Mammaloid Hills of the Creswick Plains, named by Major Mitchell during his epic trail.
The Eastern Peake Vineyard was established in 1983, the first plantings being 8 acres of Pinot Noir followed by 4 acres of Chardonnay in 1991. In 1994 the decision was made to establish a winery and cellar door facility at Coghill's Creek. The winery was completed in time for the 1995 vintage.
THE EASTERN PEAKE VINEYARD
Eastern Peake is positioned at 430 metres above sea level, which is relatively high within Australian vineyards. The vineyard is a flat relief between fertile undulations. The site was originally selected for a vineyard by the late Trevor Mast (most famous for Mt Langi Ghiran). The soil is duplex in nature with clay loam basalt overlying a subsoil of clay and fine iron stone. The cool climate is ideal for producing high quality Pinot Noir and Chardonnay.
VITICULTURE
This is the most important part of Eastern Peake - The long standing Philosophy is that great wines are made from great healthy vineyards planted on an interesting site, a great winemaker never imprints their DNA the wine should always reflect the place it was grown.
Our vines are all caned pruned, trellised east-west. Vertical shoot positioning is utilised to maximise the exposure of the fruit to sunlight. we've transitioned from Regenerative Agriculture & use Organic Farming Practices on our land. Now the transition over to the philosophies of Quantum Agriculture, this has been a long term vision for our land.
Under vine cultivation is preformed to reduce to competion from weeds under vine using a Pellanc Tourensol, we've just upgraded to a new Clemens Radius SL Plus Under vine Cultivator which is far more effective/gentle on the vineyard. Extensive straw mulch is also spread under vine to increase organic matter, microorganism's & activity as well as reducing evaporation in summer & the loss of top soil. Disease pressures are normally low due to the relatively dry growing season, which allows the use of Copper & Sulphur, Ecocarb.
From 1998 - 2018 the vineyard was dry grown on low cropping levels (1-1.5 tonne/acre) the decision was made to reinstall all the irrigation for the the 2019 season, fortunately we did as there was no rain from mid December until mid may. This is the driest growing season on record. Thus from now Supplementary irrigation is carried out. Cropping levels are around 1tonne - 2.5 tonne to the acre for Pinot Noir and Chardonnay.​
Being at 430M ASL on a plateau helps with the flow of frost during the growing season, air currents are drawn down into the Creswick Valley below. This prevents frost from settling on the vines at their most venerable growth stages.​
Picking is carried out by hand, harvest is Usually Mid April, although in recent years due to climate change harvest has been in early march, sometimes difficult vintages it can be mid May before picking is completed.
Extensive use of bird netting ensures that the fruit can be harvested when the flavour profile and balance of acid and sugar levels have reached their optimum levels. Thanks to all the good farming practice & a very unique site the fruit is always in great condition most years. No Additions in the Winery are ever needed, we always have excellent natural acidity with a optimum ripeness on fruit year in year out. hence why the winery is run with Indigenous yeasts, the wines are unforced - their malo-lactic fermentation occurs naturally, everything is unfined, unfiltered & un-tinkered just a small amount of sulphur before bottling around 15-50ppm depending on the wine.
2021 Western Victoria - Chardonnay

If you've made it this far reading through the website you'll agree that Chardonnay is the ultimate grape to grow, to produce & to drink!
Recently we had to pull out a block of chardonnay, unfortunately the Schwarzmann rootstock had failed. Pretty disappointing after 28 years, a shame as it was P58 clone now not grown by nurseries anymore. The good news is we are planting 6000 vines this season of clone B76 chardonnay.
In 2021 a decision was made to produce an "Introductory level" chardonnay from both our own & sourced fruit. This wine is made up from 5 vineyards (Eastern Peake, Mount Coghill, Two Mile Hill, Pirrepoint & Moonambel).
Over the next few years we are finally planting more chardonnay & Pinot Noir to increase our grape supply. A very exciting time here at Eastern Peake.
All individual sites were whole bunched pressed, fermented naturally in 300L hogs heads & 228L (30% new) barriques, racked after 12 months élevage to tank, always full malo, no fining or filtering, bottled 4 months later from racking. A small amount of sulphur post malo & pre bottling.

Winefront review by Mike Bennie
Posted on 2 November 2022
"From vineyards surrounding the Eastern Peake estate, all in and around the Coghills parish, more or less, with bits from Moonambel and Tarrington in the mix.
Lighter, leaner expression but not without good flavour and aroma, showing almond nuttiness, grapefruit juice, a bit of ozone and flinty mineral character – palate and bouquet in synch. Lively, pure, fresh. Vibrant, racy feel. Delightful."
93 Points
2021 Western Victoria - Pinot Noir

This wine is our new "Introductory Wine" due to the such small supply of fruit we have from the Eastern Peake site. This is a section of barrels from the 5 different blocks of pinot noir (Eastern Peake, Mount Coghill, Walsh Block, Two Mile Hill & Pirrepoint).
2021 was such a great season, uninterrupted flowering, near perfect fruit set, very low disease pressure, Fermented naturally in 3000L wax lined open concrete vats, basket pressed, 12 months élevage in 228L barriques (20% new), no fining or filtering, bottled 6 months after racking from barrel. A small amount of sulphur post malo & pre bottling.

Winefront review by Mike Bennie
Posted on 2 November 2022
"Western Victoria indicates the wine comes from elsewhere aside the home estate, or inclusive at times, but not exclusively estate fruit.
Bright scents of red cherry, paprika, minty herb, white pepper and brambly, undergrowth autumnal sniffs. Supple in the palate with a distinctive, crisp lift, a fine weave of refreshing tannin and a sense of sour-sweet cherry and sweet spice to taste, finishing dry and long. Easy to like."
93 Points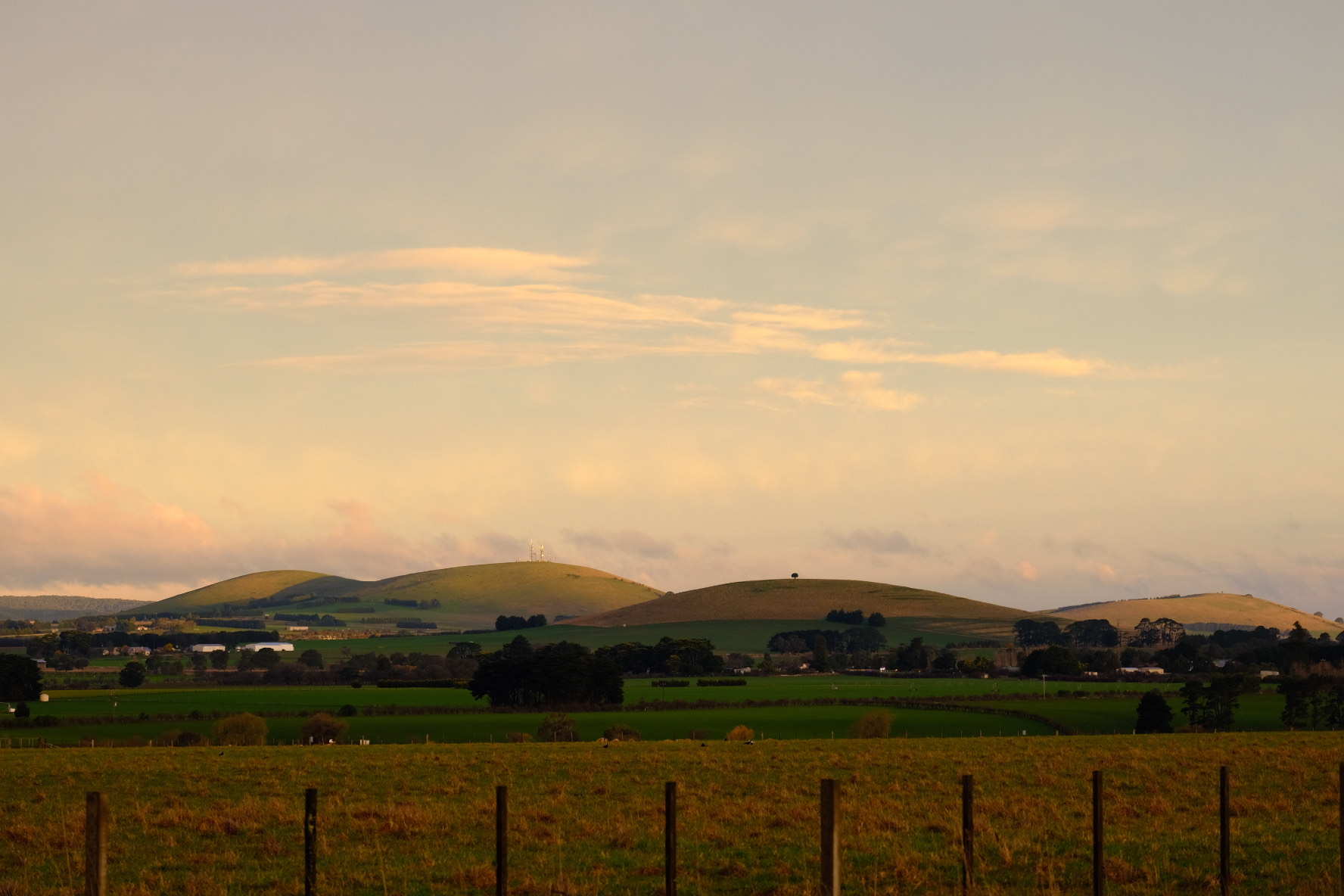 (Image: Eastern Peake / www.easternpeake.com.au)