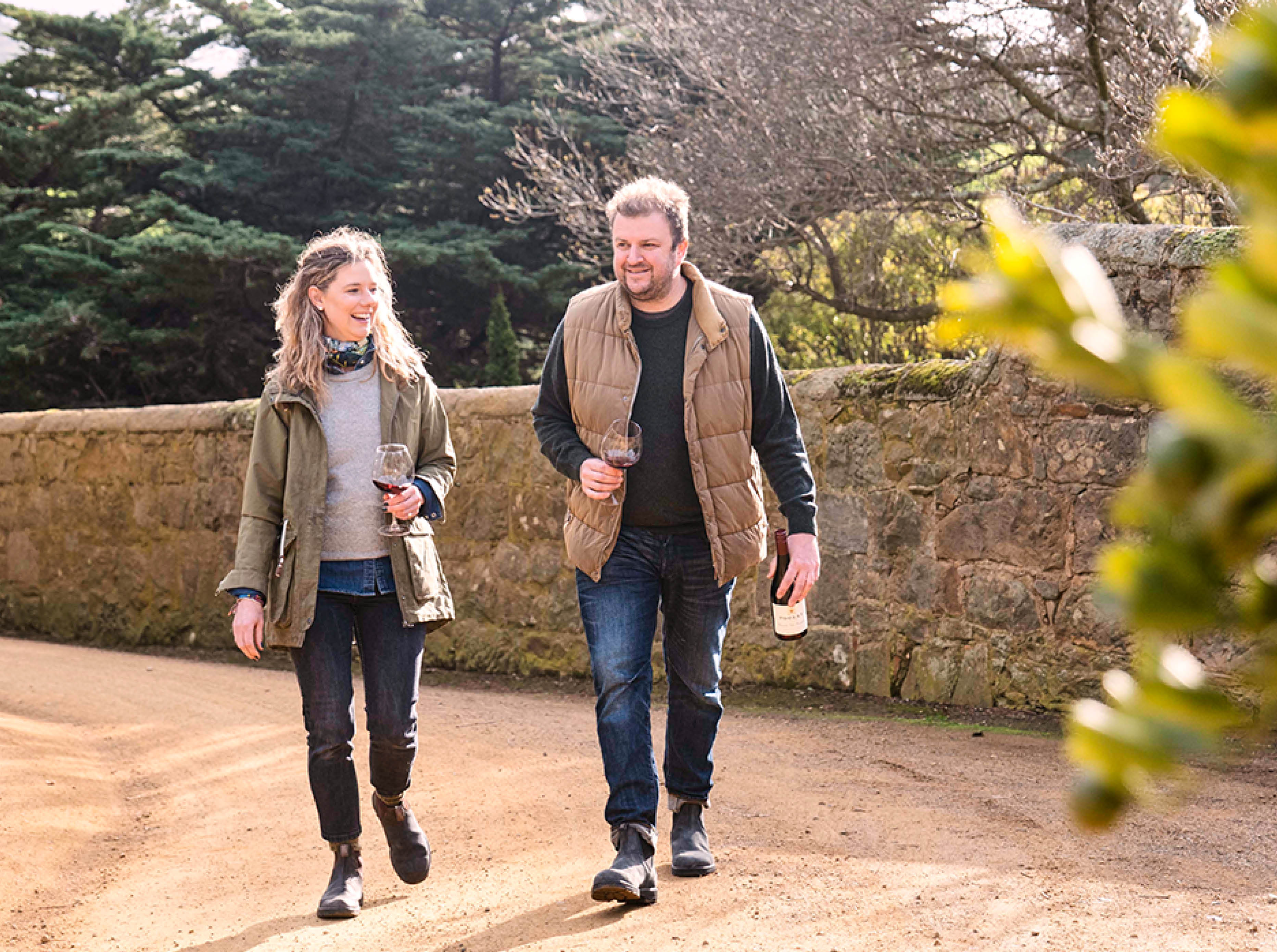 About
"Welcome! We are Justin Bubb and Anna Pooley and we have each been making wine across the globe for over 20 years. After living and working in Tasmania making wine for a number of premium vineyards throughout the state the time has come for us to release our own wines alongside working with our existing clients. A side hustle as such. 
The use of concrete vessels is no experiment either- it's a style of vessel that has been traditionally used for centuries in the Old World. We have chosen each shape specifically to enhance the texture of the varietal within them and these beautiful, hand crafted vessels will last lifetimes.
It's an opportunity to collaborate with some exceptional vineyards and people across the state and produce wines that connect with our philosophy of making wine from the ground up. All of our decisions are focused on how we can do things better in order to minimise our impact on the environment. Sustainability threads through and underpins our approach to everything we do. 
Our wines are raw, expressive and speak of place." - Justin Bubb and Anna Pooley

 Estate Release

2022 Riesling

As per the 2021 Riesling this is once again sourced from the Pressing Matters vineyard on middle Tea Tree Road in the Coal River Valley. As you know the vineyard sits on limestone so the wines generally have a firm structure with high acidity.
The Riesling was hand picked and whole bunch pressed to tank. At the end of fermentation the wine was racked to 20HL egg shaped concrete vessel for 6 months maturation on fine lees.
Alc: 12.5% , TA: 8.9 g/l, PH 3.05, RS: 6 g/l
2022 Chardonnay

The 2022 has 3 different vineyard sources being Brinktop vineyard, Bresenham vineyard (just north of Cooinda Vale) and the b+p vineyard on White Kangaroo Rd. Predominantly P96 clones plus some I10V1. This was fermented and matured in a 15HL spherical concrete vessel (50%) and the other half in mixture of barriques and a puncheon (25% new oak in total).
Stylistically this release is where we would like to see this wine going forward more in the Chablis realm with freshness and higher acidity. Just 20% MLF.
Alc: 12.5%, TA: 7.56 g/l, PH: 3.20
2022 Pinot Noir

The 2022 Pinot Noir is sourced from three different vineyards in the Coal River Valley, including our very own vineyard. Fermented and matured in our tulip shaped concrete vessel, plus a small percentage of French oak.
2022 Syrah

An exciting twist on our syrah this year sees the inclusion of viognier. A blend of syrah from the Tamar Valley and Coal River Valley co-fermented with whole bunches of exotic viognier.
Hand harvested, destemmed and open fermented with 6% viognier inclusion has produced a wine of aromatic opulence and with layers of texture.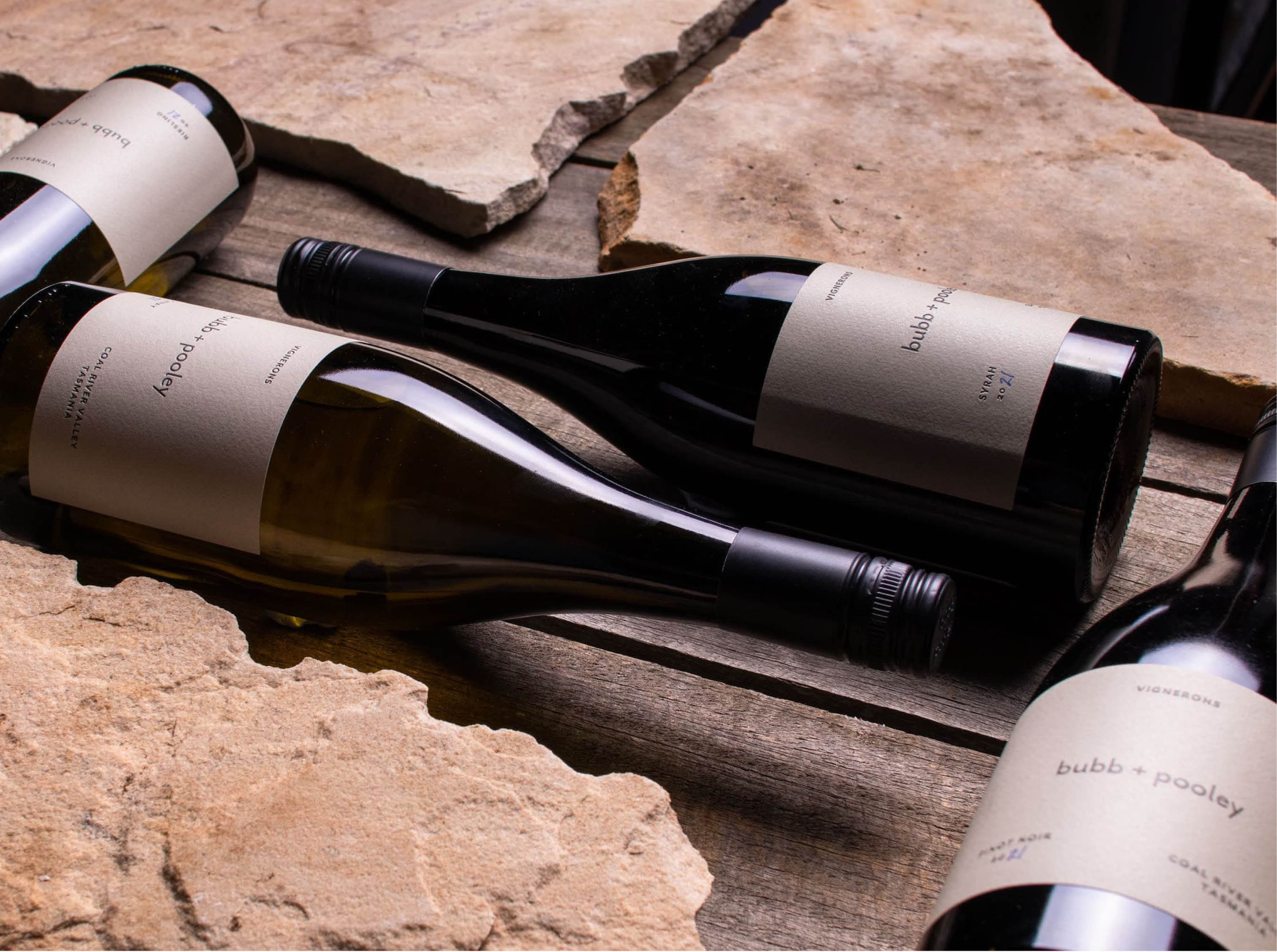 (Image: Bubb + Pooley - www.bubbandpooley.com.au)