The BK Wines Story
"BK Wines was established in 2007 by Brendon and Kirstyn Keys. The goal has been to create fabulous art. Beautiful, unique, sensuous, deceptively minimalist, envelope-pushing art. After learning from masters in NZ, Argentina and California, we trained our sites on the Adelaide Hills because it's just a cracking great place to live and make wine. With no pretentions to be somewhere it's not and few preconceived notions about what wine styles to expect, this is a place where non-conformity is the rule. Our little winery is situated in the Hills where it is tucked away surrounded by bush land.
Brendon's greatest strengths as a winemaker are his passion for artistic expression and his uncompromising quest for high-quality fruit. When it comes to the process of winemaking, Brendon's goal, first and foremost, is to source exceptional small vineyards producing grapes that reflect the individuality of a particular site. As a winemaker he uses a minimalist approach to gently guide well-chosen fruit to a beautiful final result in the bottle. This combination of an artistic soul and unyielding quality standards makes Brendon a recognised master of his craft.
But hey, if you really want to know about us. Grab a bottle of BK that peaks your interest, crank up something you love to hear, pour a few glasses and spend time with people who make you smile and think." - BK Wines
2023 Autumn Release

2022 'Ego is the Enemy' Pinot Gris

Our 2022 Pinot Gris – the wine formerly known as Ovum – gives the perception of sweetness with aromatics of pear drops and lemon zest. Slippery smooth at the front with grip at the back palate. Very pretty, crystal clear, and full of spice and texture. There are any number of reasons Ovum found a new name, but in summary, you let ego get the better of you at your peril.  'It's a temptation that exists for everyone – for talk and hype to replace action.'* Best to stay humble and maintain a light grip.
*Ryan Holiday, Ego is the Enemy, Penguin, 2016

2022 Gruner Veltliner

 Our Ovum Grüner Veltliner is a wine long on structure that met its match in 2022… a vintage so structural, it was sculptural. Where 2021 was plush – eschewing the Australian tendency to push this variety toward acidic austerity – 2022 is statuesque, displaying uncommon weight and heft even on the nose, with crunchy quince, hachiya persimmon and white pepper characters. Herbaceous and juicy on the palate. Ovum has the vivacious wild spirit of a natural wine, but long fermentation and a full year on lees result in a seriousness far more befitting the top shelf.

2022 Carte Blanche White

 We love white Burgundy, which, in theory, should be synonymous with 'we love Chardonnay'. And while that is undoubtedly true – we do adore Chardonnay – there really is something about white Burgundy that is decidedly not just about Chardonnay. Call it terroir if you must, but those Burgundian vines have been there a long time… are we sure there isn't a waif or stray hiding in the rows? In our experimenting, Carte Blanche White closes in on solving the conundrum. Made with any one of four Chardonnays that don't quite fit the profile of our single-vineyard series – including one that's spent a year on skins and another a year in barrel – along with a bit of Gris, a smidge of Grüner, a drop of Riesling and left on lees for a month, we've alchemied our way to white Burgundy. Very zippy, lots of French oak.

2022 Gut Feeling Chard/Riesling

Sometimes you just know. With a bit of inspiration from the Jura, the twinkly idea for this wine was brewing for a long time, to combine Chardonnay and Riesling. Realised with our friend Matt Rorick from Forlörn Hope [add link] – a man who never shies from a quirk – we pressed and co-fermented 100L in an oval barrel while basking in Devo. We have made a lot of Chardonnay in our time, but this was an all-new gig, and we tasted the unlikely ferment countless times… fingers crossed, nails bitten… would it or wouldn't it…?  And it did. Rounded Chardonnay at the front tapering to a Riesling, holy f* sour-apple lolly pop at the end. Sometimes you just know.

2020 Archer Beau Chardonnay

One of the cyclical delights over our many years crafting wine has been the opportunity to share our single-barrel, limited edition wines named for our beautiful boys. Archer Chardonnay takes the very best of our Swaby barrels – as determined by Kirsty's well-honed palate – and preserves it over 15 months in barrel, with nine or 10 months of bâttonage. The full impact of the 2020 vintage can be seen in this wine. More masculine-leaning perhaps than other vintages with an intense nose of biscuits and blackened butter. The palate is at once tight and concentrated but full and smooth, with puckering, gentle acids woven throughout. Simultaneously refined and easy to drink with pithy, custard apple and kumquat notes, sewn in with balanced oak. A genuine delight now, with the robustness to age with considerable grace. (Not unlike Archer the boy.)
100% Piccadilly Valley Chardonnay, wild yeasts, 15 months in 100% new French oak, 9-10 months bâttonage, only one barrel produced.

2022 Pur Jus

 Our annual nod to a feather-hearted sunny summer day along the Loire, this hyper cool climate vineyard – grafted from Cabernet Franc to Pinot Noir – yields a wine with characters of the two in a graceful pas-de-deux. Bright and light, Pur Jus owes everything to whole bunches and a semi-carbonic treatment. Only-just-medium bodied with an almost Gamay-like character, there isn't a moment of broodiness to be found. The will-it-ever-ripen 2022 vintage suited this très Français wine perfectly. Only one pallet – allez, vite!

2022 Carte Blanche Rouge

 If you were wandering along a winding road with this wine and asked its name, it would whisper back, 'What do you want it to be?' Carte Blanche isn't really about the constituent varieties (mainly Syrah but also Pinot Gris, Pinot Noir, Merlot lees, and a little bit of this and a little bit of that…), it's about interpretation. A few basic observations for the record: it's red, it's beautifully perfumed, it tastes like red fruit, and it's savoury with a spicy phenolic whack that pulls everything together. Temperature and glass style will make a massive difference to the experience. We encourage experimentation and multiple sippings. There's nothing more freeing than getting a little lost.

2022 Good Friday Barbera

 A funny thing happened on our way to making a Kuitpo Nebbiolo… we made a Barbera, instead. No confusion, just fabulous luck on a sunny Good Friday. When a wine is new on the scene, we try not to preordain or typecast, we just apply love and instinct and wait to see where it takes us. Where it has taken us so far is a pretty classic Barbera, bright and light with musky, herbaceous aromas. Mouth-wateringly saline and juicy, it craves food. The baseline has been set.

2022 Skin n Bones Pinot Noir

 When we look at our wines every year, it's a chance to harken back not just to the current vintage but to previous vintages and see how the wine in question reflects its moment in time. Some wines impose their own characters, some soak up the environment. Skin-n-Bones, as it turns out, is the perfect seasonal muse. 2021 was a mellow easy rider, 2019 a classic Burgundy, 2017 was wild and lurid. As a vintage, 2022 was long and cool creating wines with good ripeness but great structure. Skin-n-Bones 2022 is light-bodied tar and spice, red cherries and just-ripe rhubarb, beautifully soft on the back palate with a dense, juicy, chalky centre, all that you'd expect if you'd held a mirror to the vintage.

2008 Ma Fluer

This is one of those rare vinous once-in-a-lifetime, money-cannot-buy (well… except it kind of can) experiences. The year is 2008, Obama is making his first run for the Big House, the Kings of Leon are top of the Hottest 100, the Hottest 100 is still on January 26th, and Ma Fleur is born – our flagship Chardonnay… but for this one barrel. It was new French oak and, frankly, we just didn't love the toast and so back it went, way back to the recesses of the barrel room. For a time, it was topped annually and then – as the years rolled on and a decade and a half rolled past (past Mumford & Sons, past Macklemore, past Rudd and Gillard and Rudd again, past a global pandemic), at some point the topping ceased and the barrel just sat. A light dusting of flor developed across the surface, locking in and evolving a little window to our past. The toast we didn't love has given way to cultured butter and grapefruit pith, the very characters you'd expect from 15-year-barrelled Chardonnay made in a hot vintage but with a firm line of acidic structure. Hints of cashew. Drink history.

2020 Kismet Chardonnay

Kismet is divinely ordained fate, the belief that the will of the Universe – be it capricious or predicted – is, regardless, unavoidable. Such was the path of Kismet Chardonnay. While Savagnin typically forms the basis of our Jura-esque flor program, this single barrel of Lenswood Chardonnay from the Fall Vineyard, took its place as a bit of an experiment, remaining in barrel under ullage for two years, untopped, followed by a year in bottle. More than a glancing homage to Le Cloud by Preiure Roch. Dried orange peel, brine, and chalky tannins with oxidative, sherried fringes. A wine to be savoured, whether you believe in the Fates or merely happy accidents.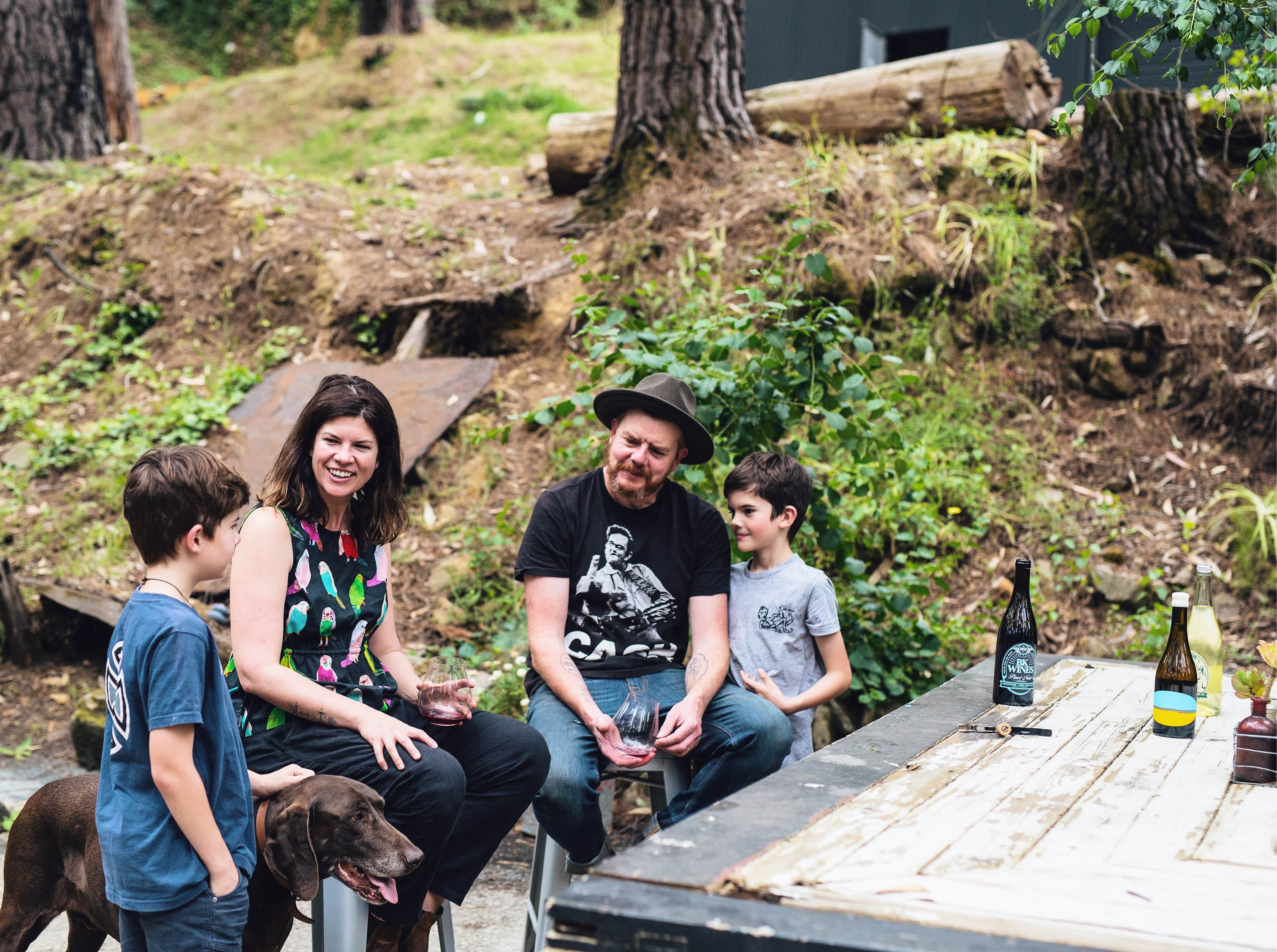 (Image: Brendon & Kirsty Keys with family / www.bkwines.com.au)