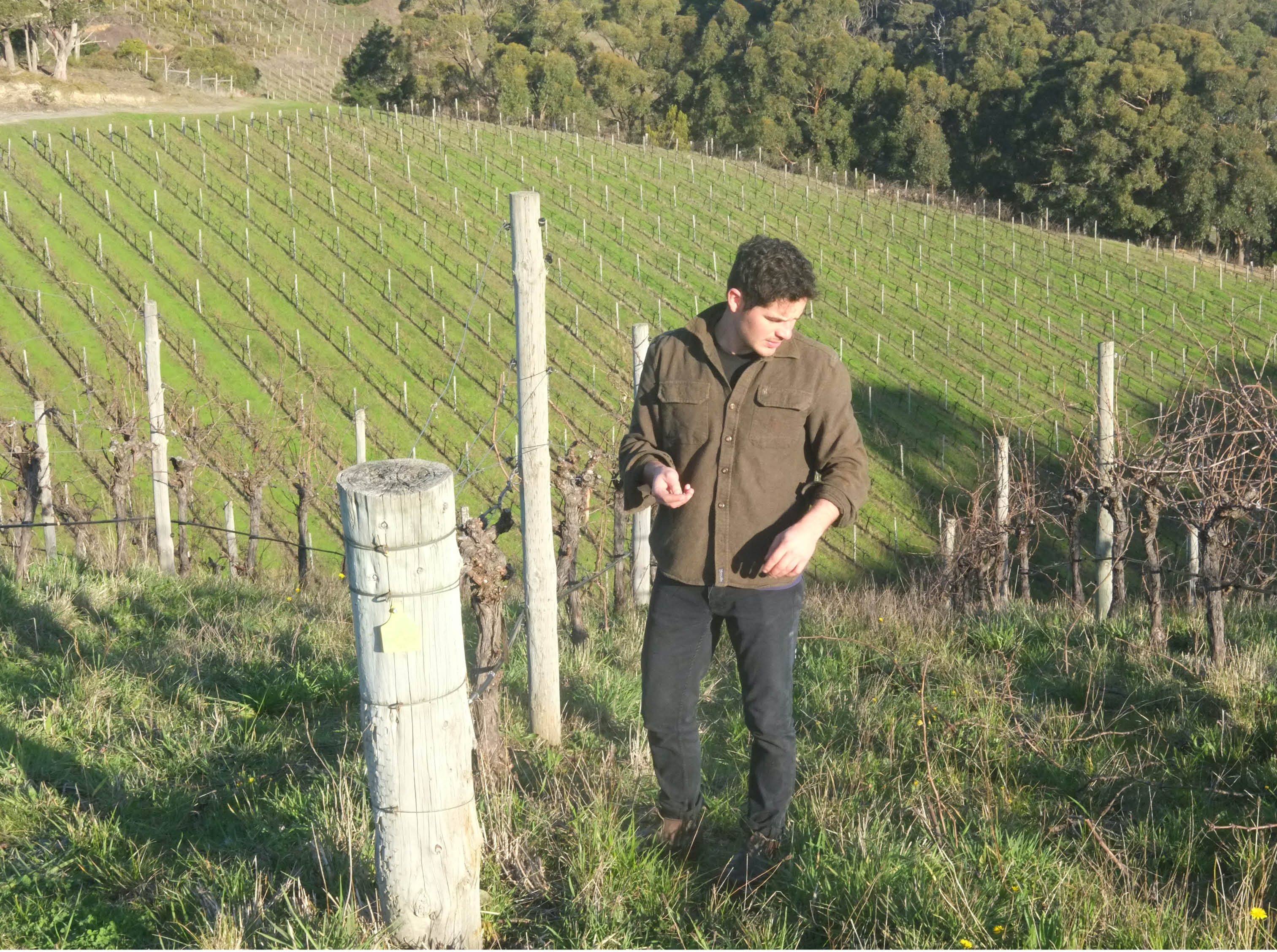 (Image: Basket Range Wine)


About
"In 1978 Phillip Broderick purchased a property in Basket Range, in the Adelaide Hills. He planted the initial small vineyard containing a selection of Bordeaux varieties in 1980 and began making wine. In the mid '80s Phillip met Mary and their two sons Louis and Sholto were born at Basket Range in '92 and '95 respectively.
In the early 2000s, the Brodericks moved up the hill to the neighbouring property where they planted the larger vineyard.
Basket Range is one of the steeper parts of the Adelaide Hills. Traditionally any arable and workable slopes were planted with orchards of apples and cherries in addition to other horticulture. There are still some remnant patches of these orchards on the property, as well as native scrub.
The vineyard itself is 13.5 acres under vine and is approximately 450m elevation. It has three different aspects; two northern and one south east facing. With the steep topography these give a range of exposure and soils. The varieties grown are Pinot Noir (both 777 and MV6 clones), Merlot, Cabernet Sauvignon, Chardonnay, Petit Verdot and a small amount of Saperavi. The soil types in the vineyard vary, however comprise loamy red and blue clay over sandstone, with schist and ironstone and shale. The vines are grown organically.
All the wines are made on our property." - Basket Range Wine

 2022 New Releases

2022 Hills Chardonnay

Chardonnay (i10v1, Mendoza and g9v7 clones) predominantly from a vineyard in Piccadilly Valley with a smaller component from a vineyard in Forreston (25 mins away in the Adelaide Hills). All components were whole bunch pressed, initiating ferment in tank, then finished in seasoned French oak for eight months.
This wine shows complexity and interest from different vineyards, with a bright acid line. A nice example of Adelaide hills Chardonnay in 2022.

2022 Banksia Pinot

Pinot Noir (777 and MV6 clones) all from our vineyard in Basket Range. The fruit is from two different aspects; north and south-facing blocks and was picked to maintain a fresh, natural acidity. Whole bunch maceration was used for the components adding a brighter, aromatic layer, but also depth, savouriness and balanced tannin.
The wine spent eight months in seasoned French oak prior to bottling.

2022 Bantam

This wine is comprised predominately of Merlot and Petit Verdot from our vineyard. These were macerated with the use of whole bunches and with gentle handling, which gives lifted fruit and a spice from the stalks. The components were then blended with small amount of Chardonnay and Sauvignon Blanc.
This makes for a red wine with gentle tannin and a lifted mid-palate.

 Estate Release

2021 Estate Chardonnay

Estate grown Chardonnay (G9V7 and Antav95 clones) planted on a north-facing site just behind the winery. The fruit retains a nice acid line, and is made to build texture around citrus pith, with a bright core.
Soil: Loam on red clay and sandstone, with some ironstone. Winemaking: Whole bunch pressed. Partial barrel fermentation. Matured in French barriques for ten months with some battonage.
100 dozen produced.

Winefront Review by Mike Bennie
Posted on 30 September 2022
 "From the home block. A serious take on the variety. Fuller in flavour too – lots of proper chardonnay character.
Deep and delicious but lively and fresh too. Very nutty, saline minerally and lashed with ripe apple, lime, nectarine. It feels fragrant, rich in a way but the briny lift in the palate takes things away and refreshes with each sip. Gentle despite the layers of flavour. Moreish, overall. Juicy texture finishes in a fine, light chew of talc-like grip. Succulent. This does a lot of things really well. Ready to roll now."
94 Points


We have a couple of different aspects of Pinot Noir in the vineyard. This wine is a blend of MV6 and 777 clones grown in the coolest part of our vineyard, on a steep south-eastern facing aspect. This allows for more phenolic and flavour ripeness, while retaining brightness.
Soil: Deep loam over red clay and sandstone.
Winemaking: A combination of whole bunch and destemmed ferments in 1500L and 2000L vats. Macerated for 10-14 days with gentle daily pump-overs.
Matured for eight months in French barriques.
140 dozen produced.

Winefront Review by Mike Bennie
Posted on 30 September 2022
 "From the Broderick farm, complete with Peugeot 504s adjacent to vineyard and a great, big, cuddly Maremma dog.
Finely wound, dark fruited and tannin shaped pinot noir – cherry fruit on show but brambly, undergrowth-like characters in the mix and bergamot tea tannins a feature. Elegant, refined, smooth, silky yet with building with fine, excellent chew. It's a serious wine, structured, reserved and tense. It drinks well now but needs a good decant and a big glass, albeit it feels more like it's future is in cellars. Perfume, presence, poise – pitch-perfect pinot."
94+ Points


The Merlot (D3V14) sits in the warmer pocket at the top of a gully on a north-facing aspect. This enables balanced phenolic and flavour ripeness, while retaining a bright acid. This is a more structured wine that has been given bottle aging before releasing.
Soil: Blue and red clay over sandstone with schist and ironstone. Winemaking: Destemmed in 1500L and 2000L vats. Gentle pump- overs daily, then matured in seasoned French oak barriques for
nine months.

Winefront Review by Mike Bennie
Posted on 30 September 2022
 "Merlot went in the ground pretty early at the late-1970s planted Basket Range Wine estate. Mature vines, mature winemaking approach.
Looking to tension, cool acidity, dark fruit character but a finer expression, and the wine nails it. Feels serious. Dark plummy fruit, brined black olive, a touch of eucalyptus/Aussie bush and a lick of anise. Sits medium weight and quietly powerful in the palate, more so from the ripples of graphite-mineral laced tannins that weave through the fruit and savoury elements of the wine. Those tannins – beautiful, Italianate, in fine ribbons. Excellent example of merlot here. Fine and fancy, refreshing and tense."
94 Points

2021 Estate Cabernet Sauvignon
'Trophy-Best Cabernet Adelaide Hills Wineshow 2022'

The Cabernet grows in the warmest aspect of the vineyard. That site gets a nice amount of afternoon sun. In the relatively cool region for Cabernet, this aspect enables flavour and phenolic ripeness, with a nice acidity. The clones are LC10, CW44.
Soil: Loam on red clay and sandstone
Winemaking: Destemmed in 1500L and 2000L vats with gentle pump-overs daily, for about two weeks.
Matured in French barriques for nine months.

Winefront Review by Mike Bennie
Posted on 30 September 2022
 "Cabernet sauvignon is a feature at the well-established Basket Range Wines vineyard, here being taken on by the second generation in a considered and refined way. Neutral oak is the palette, gentle winemaking a given, albeit the pursuit of elegant tannin profile also part of the approach. Not the label here on the bottle, but close.
Beautiful, just on medium-bodied wine. Spreads softly and gently in the palate supported by cool, refreshing acidity, a weave of fine, lacy tannin and though plummy and inky, has this satiny feel until the pucker begins pulling the wine into a building, crushed-rock-minerally grip. Threaded through the pool of smooth, dark fruit character is bay leaf, sage leaf, white pepper. A lot going on. The wine manages all that complexity and lets it hang long in the palate. Take your time. Worthy."
94 Points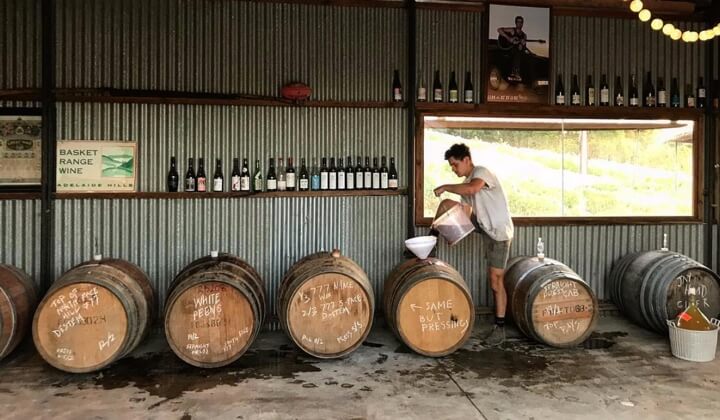 (Image: Basket Range Wine)